3D underwater world of a group of diverse preschoolers with colorful fish tails.  Set to a soundtrack of catchy pop songs, Bubble Guppies infuses the core elements of kindergarten readiness, including: math, literacy, the arts, science and socio-emotional development.  Can't get enough of this show on Nickelodeon?  Well, get ready, because Bubble Guppies
will hit shelves in their new DVD release on May 1, 2012!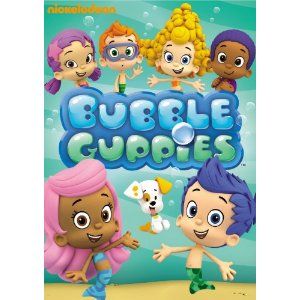 Here is a list of the episodes, and their synopsis, which are included on the Bubble Guppies DVD:
Bubble Puppy's Fin-Tastic Fairy Tale!- (Double-Length Episode) Once upon a time, Molly and Gil went up a hill to fetch a pail of water. But when a mean Witch, played by Wanda Sykes, turns Bubble Puppy into a frog, Molly and Gil enlist the help of some famous fairytale friends to undo her mean green spell.  They better work fast or else no one in the Enchanted Forest will live happily ever after!
Bubble Puppy- Gil wants to adopt a puppy after seeing one he really likes at the adoption center, but the Bubble Guppies have to learn how to take care of a pet before he can bring it home.
Bubble Bites- Ms. Pinkytoe, a friendly crab, gives Gil a few Bubble Bites to feed to Bubble Puppy.  Bubble Puppy wants more food so the guppies head to the supermarket.  They discover there is one box of Bubble Bites left and both Gil and Ms. Pinkytoe want it, so they must compete in a Bubble Bites biathlon. Will Gil get more Bubble Bites to feed Bubble Puppy? Or will Ms. Pinkytoe get them for her dog, Bud?
Nickelodeon was nice enough to send my family a copy of Bubble Guppies on DVD to review.  Blake was a little more than excited when he opened the box and found this DVD!
I tried holding him off from watching his new movie until our upcoming car trip, but no such luck!  This is one of his favorite shows on TV and actually sits quiet to watch it.  His favorite episode was Bubble Puppy probably because he is trying to talk us into a pet!  He loves his new DVD and I know it will make our car trip easier.
Bubble Guppies has a running time of 88 minutes and includes the Special Features:  "Create Your Own Bubble Guppy" DVD Game, 2 Karaoke Music Videos-  "Fairytale Pop Song" and  "I'm So Mean" and Juke Box Song Selection.  This DVD retails for $16.99 and is available for pre-order now from amazon.com
.
Would your kids like to go for a swim with the Guppie crew?  Nickelodeon is offering one lucky reader a chance to win a copy of Bubble Guppies on DVD!  For your chance to win, just follow the rules below.
How to Enter
1) Tell me who is your child's favorite Bubble Guppies Character.
Additional Entries: (please leave a separate entry for each)
2) Subscribe to my blog.
3) Favorite me in technorati.
4) Follow me on twitter(whatmommiesneed) and tweet about this giveaway. (Once an hour)
5) Blog about this giveaway and link back here to http://www.whatmommiesneed.com/ (10 entries)
6) Put my button on your sidebar.
7) Become a fan of What Mommies Need on Facebook.
8) Follow Nickelodeon DVD on Twitter.
Contest ends at 11:59pm CST on April 30th. Prizes not claimed in 72 hours will be forfeited.
Open to US residents only.
You Must Leave a Valid E-mail Address to be eligible.
THANK YOU TO NICKELODEON AND PARAMOUNT HOME ENTERTAINMENT FOR SUPPLYING THESE PRODUCTS FOR REVIEW AND GIVEAWAY.