Do you have a boy ages 6 and up, who watches Nick Toons?  If so, then I'm sure you know all about the Monsuno, which tells the story of the "re-awakened Monster DNA called Monsuno" that finds its way into the unsuspecting hands of adventure-seeking teenagers.  Your kids can now bring the magic of Monsuno home, thanks to the new toy line released by Jakks Pacific.
This newly introduced line of toys includes: action figures, accessories, and trading cards.  These toys allow you to play Monsuno on three different levels: 1) Basic- where you have core to core battles using the action figures and accessories, 2) Intermediate- where you combine a use of action figures, accessories and cards or 3) Advanced- where you battle using only the cards. 
Jakks Pacific was nice enough to send me over a party kit for Wyatt to share with his friends.  We invited over his cousin and a few others to have our party.  My husband joined in by helping them open all the goodies and explaining the instructions.  The kids seem to lose interest in the card game, but had a great time playing with the spinners.  Even Blake, my three year old, could work the spinners and join in the fun.  I think I will pull the cards out again when there is less distractions and see if it becomes easier.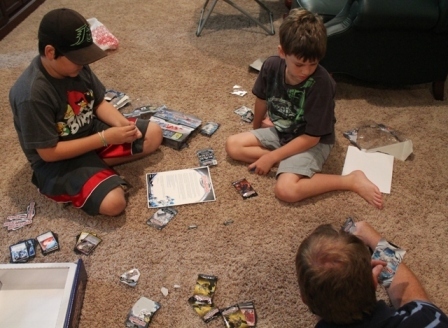 Look for these toys at mass retailers nationwide.  They are targeted for boys ages 6-10 and would be perfect for birthday gifts.  I think the cards would also be a great reward item for good behavior, since they are less expensive. 
DISCLOSURE: THANKS TO JAKKS PACIFIC FOR SUPPLYING THE GAME ITEMS FOR MY PARTY.  ALL OPINIONS STATED ARE MY OWN.