The Nick Jr. gang is back in another adventure and this time they are headed to the Wild West.  Coming to DVD on January 29, 2013, Nickelodeon will release Nickelodeon Favorites: Rootin' Tootin' Wild West
.  This DVD includes all your kids favorite characters including:  Bubble Guppies, Team Umizoomi, Dora, and more!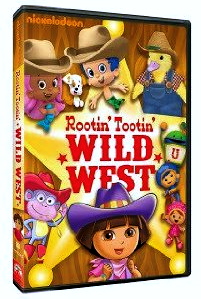 Here is a list of the episodes, and their synopsis, which are included on this DVD:
Bubble Guppies – "The Cowgirl Parade"- Molly wants to be a cowgirl like Dusty, the riden'-est, ropin'-est cowgirl in the parade! But when Dusty's calf gets into trouble, Molly has to use everything she's learned to save the day.
Team Umizoomi – "Shooting Star!"-  Shooting Star is the tiniest horse at the ranch. More than anything he wants to be BIG like the other horses. Team Umizoomi take Shooting Star on a mission to find four magical horseshoes that will make Shooting Star grow.
Dora the Explorer – "Pinto, The Pony Express"-  Cowgirl Dora and Cowboy Boots are riding through the Wild West on Pinto the Pony Express.  They have to deliver a special package of cowboy cookies to Benny the Bull.  But they'll have to be on the lookout for Swiper, because that fox sure loves cowboy cookies!
The Fresh Beat Band – "Hip Hop Hoedown"-  The Fresh Beats are having a hoedown today! They're going to play country music and square dance. Twist really wants to play his mix tables, but they don't fit with the country music style so he has to figure out what to play!
Go, Diego, Go! – "The Great Roadrunner Race"-  Diego's at the Desert visiting his friend Roady Roadrunner, who's about to compete in The Great Roadrunner Race. But Roady is a little nervous cause he's never done this before. On their way to the race, Diego helps Roady duck under the giant cactus arms, jump over the tumbleweeds, and shake, shake, shake off all the sand from the sand storm.
The Wonder Pets! – "Save the Pony Express"-  The Wonder Pets must help a Young Pony in the Old West make her first delivery as part of the famous Pony Express!
The Wonder Pets! – "Help the Groundhog!"-  The Wonder Pets travel to a snowy forest to help a shivering groundhog get warm.
Nickelodeon was nice enough to send my family a copy of this DVD to review.  Blake was a little excited about this one, which I gathered from his statement of "I have been waiting my whole life for this!".  It has not been a disappointment.  His favorite episode is Bubble Guppies, which he dances along with and sings.  I will admit the Groundhog in the Wonder Pets episode is a little creepy, but the kids think it is a hoot.  This has become a definite go-to DVD on Blake's list.
Nickelodeon Favorites: Rootin' Tootin' Wild West has a running time of 137 minutes and retails for $14.99.  This DVD will only be available for purchase at Wal-Mart.  This DVD would make the perfect Valentine's gift for your little one!
Do you have a Nick Jr. fan in your house?  Good news!  Nickelodeon is offering one lucky reader a chance to win a copy of Rootin' Tootin' Wild West on DVD!  For your chance to win, just follow the Rafflecopter rules below.
a Rafflecopter giveaway

DISCLOSURE:  Nickelodeon supplied me with a DVD to facilitate my review.  All opinions stated are my own.