Over the last year, I have been making a conscious effort to reduce the amount of packaged foods we buy.  Mostly this is because I want to reduce the amount of chemicals an processed foods that my kids are consuming.  They have been good sports and open to trying new snacks, especially when we received a couple of bags of Organicasaurus Baked Organic Corn Snacks from Good Boy Organics!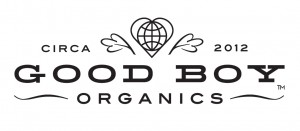 Here are some important facts about this company for you to know:  Good Boy Organics was founded in 2012 by the nice people of Integrated Organics Company (IOCO) and Integrated Global Organics (IGLO).  We use our long history of discovering the best organic products and distributing them all over the US to bring awesome organic goodness to shelves near you. Our strong relationships with the best producers and processors across the globe allow us to streamline supply channels and provide the greatest quality, competitively priced, certified organic products to you and your family.  Good Boy Organics is dedicated to providing delicious, healthy products that are USDA Certified Organic and Verified by the Non-GMO Project. We source ingredients from fair trade certified producers and develop certified gluten-free products whenever possible.
As I stated, my boys were more than willing to try Good Boy Organics' Organicasaurus Baked Organic Corn Snacks!  First of all, they got to eat cheesy puffed Dinosaurs, and mom didn't complain. Secondly, mom said they could have them for a school snack option. SCORE!  While both boys liked these snacks, Blake seemed to enjoy them more.  I thought the flavor was good, but don't try to compare it to the processed puffs.  While the flavor was different, I found the texture comparable.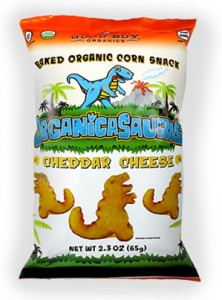 The Organicasaurus Baked Organic Corn Snacks are:
Baked, Not Fried
Non-GMO Verified
Certified Organic
Certified Gluten-Free
40% Less Fat
That is one impressive list!
These snacks, and other Good Boy Organics offerings, are available at your local Whole Foods or you can find a listing of retailers at GoodBoyOrganics.com.  For more information, be sure to follow Good Boy Organics on Facebook and Twitter.