Okay Ladies, we are now officially in crunch time for holiday shopping and there is no time to waste!  We all know that boys can be hard to shop for, but don't worry, because Hasbro has you covered.  Their holiday toys are everything a boy could want, including Avengers, Star Wars, Spider-Man and Transformers!

Some of Hasbro's top items this holiday season include:
THE AMAZING SPIDER-MAN Motorized WEB-SHOOTING SPIDER-MAN- SPIDER-MAN has not one, but two web shooters for double web-blasting action! Set up the included target that looks like his arch-nemesis, THE LIZARD, and start the web-blasting. He's not just a hero, he's a two-shooter web-crawling dynamo!  Recommended for kids ages 4 and up.  Requires 4AAA batteries.  This toy retails for $34.99.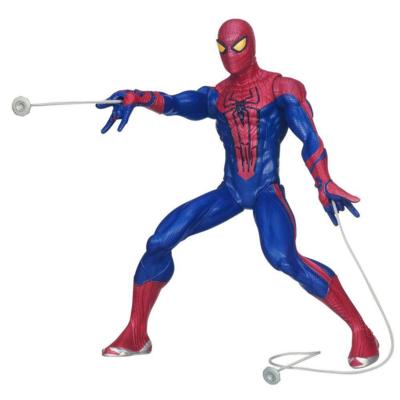 TRANSFORMERS Generations Figure- Figure converts from robot mode to vehicle mode and back! Includes blaster pistol accessory!  Recommended for kids ages 5 and up.  Retails for $14.99.
Also, be on the lookout for Hasbro Stocking Stuffers, which include MARVEL THE AVENGERS 3.75″ HEROES ASSORTMENT and ANGRY BIRDS STAR WARS Mystery Bags. Their best picks for kids that love Super Heroes, which include THE AVENGERS HERO MASKS and THE AMAZING SPIDERMAN HERO FX GLOVE.  (FYI-Blake has a few of the Hero Masks and loves them!)
These toys are available at mass retailers and Toys R Us.  You can also shop online at Hasbro.com where you can shop by age, character and more!
 DISCLOSURE: Hasbro sent me product to facilitate my post.  All opinions stated are my own.