Reading time is very important in our house.  While we encourage reading on a daily basis, we make sure that at least one night a week, we all read together.  This means that we are always looking for new books to read.  It seems that my boys have followed in my footsteps when it comes to enjoying books that are available in a series, which is why I was happy to receive a couple of books from The Adventures of Bella and Harry collection to share with Blake.
Here is some information about this collection of books:  The Bella & Harry series was developed to inspire young readers to embrace the world and encourage its exploration. Done through the comedic and informative adventures of sibling Chihuahuas Bella and Harry, while traveling through various countries, the series aspires to stimulate children's imaginations and foster a thirst for understanding the world in which they live.
My family received two books to review:
Bella & Harry: Let's Visit Rome-  Blake chose for us to read this story first.  I thought the story was well laid out and explained things well.  Blake had fun learning about Gladiators and the Colosseum.  He giggled when Harry went swimming in the fountain and loved the Fun Words and Phrases in the back, which taught him a few Italian words.  He went to bed telling me "Buona Notte"!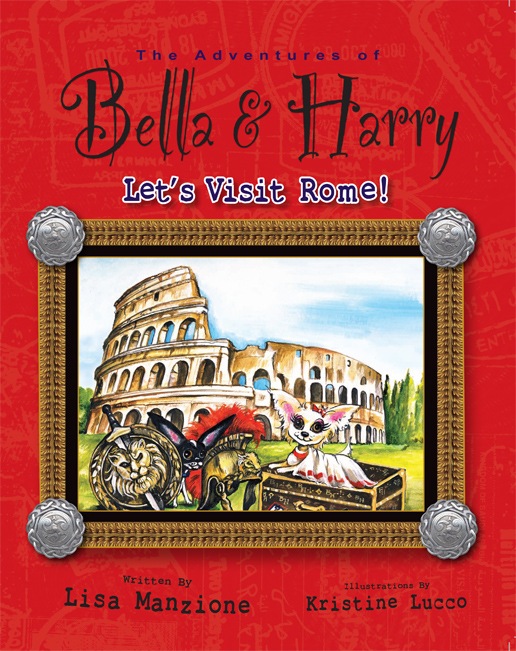 Bella & Harry: Let's Visit Edinburgh-  Blake was fascinated by the Scottish men wearing kilts and I was interested in learning more about bagpipes.  We talked about what the family crest and tartan meant.  He had fun looking for Nessie and now knows that the Scottish word for lake is "Loch".  I think the word glossaries in the back are his favorite and he told me he likes these books because he likes dogs!

My only complaint about the books is that the text was difficult to read at times and the o's and a's looked a lot alike, which can confuse little ones when they are learning to read.  Overall, I thought the books were adorable and they definitely kept Blake's attention!
Edinburgh and Rome are the newest books in this series, which also features books on Paris, Venice, London, Cairo, Athens, Barcelona, Istanbul and Jerusalem.
Want to see Bella and Harry in action?  Check out the short clip below:

The Bella and Harry books are hardback books, with a dust jacket, and are done in vibrant colors.  These books retail for $16.95 each and you can purchase them online at Bella and Harry or at a major retailer near your.  For all the updates on where Bella and Harry are going, be sure to follow them on Facebook.
Are your kids ready for an adventure?  Bella and Harry are ready to take them all over the world, and they are offering one lucky reader a chance to win 5 books from the Bella & Harry collection! For your chance to win, just follow the Rafflecopter rules below.
a Rafflecopter giveaway