Down here in New Orleans, we tend to do things a little different.  From the way we speak, to our cuisine, we are truly unique.  We seem to feel the same way about our coffee as we do about our food, we like it rich and bold!  Whether we are taking that first morning sip or enjoying it with some afternoon beignets, it is always a good time for coffee.  French Market Coffee, a New Orleans favorite for over 100 years, was nice enough to send me over some of their products to try including their new single cups.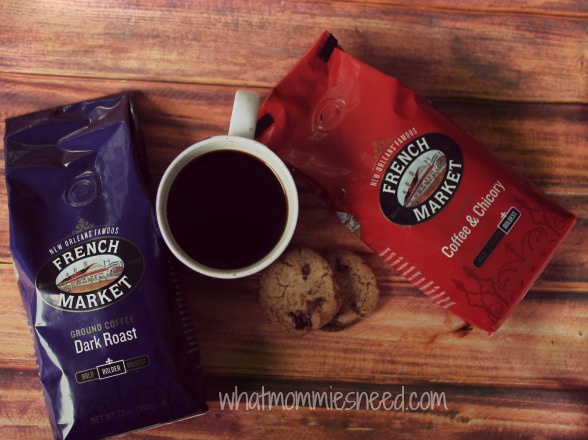 Here is some background information about French Market Coffee:  A few things have changed over our 120-plus year history, but our dedication to great coffee has not. To this day we continue to roast the choicest Arabica beans and specially grind them to create the quintessential New Orleans coffee, right here in the city we call home. And as a part of New Orleans' culinary heritage, we have a tradition to uphold — just like the city's finest restaurants, many of which have been serving French Market Coffee for over 100 years.
Those of you who are not from the NOLA area might be wondering, what is Chicory and why is it in your coffee?  Chicory is a perenneal herb with light blue or purple flowers, whose roots have been used in coffee since the 1600′s.  It gives coffee a rich flavor and there is nothing like it!
So, you can imagine my excitement when a beautiful crate showed up at my door smelling absolutely fabulous!  I tried the single serving cups first, which work perfectly in my Keurig and brewed a beautiful dark color.  By far, I think these have been my favorite single cups to date!  The coffee tasted rich and not watered down.  Sadly, my cups are gone now and way to quickly.  Luckily, I can buy them at French Market Coffee's Online Store.
French Market Coffee's single cups retail for around $8 for a box of 12. For more information about this company or about their other coffees, be sure to visit the French Market Coffee site, or follow them on Twitter and Facebook.