VTech has made my two boys happy with their Switch & Go Dinos!  Part Dinosaur, part Vehicle, with a heavy dose of cool sounds, lights, and a LCD screen makes for a ferocious combination.  VTech's newest addition to this toy line is "Blister the Velociraptor", which they were nice enough to send my boys to try.
The Switch & Go Dinos are recommended for kids ages 3-8, and I would have to agree.  Both my 5 and 8 year olds were claiming this toy when it arrived.  They were both fascinated with Blister, but with different features.  The 5 year old loved the helicopter action, which includes a spinning propeller with sound.  The 8 year old loved the LCD screen and the fact that you could choose your pilot and when in dino mode, eyes appeared.  They both liked the searchlight that shines, which was immediately tried out in a dark room.  My favorite feature was the volume control, which seems to be missing from so many toys!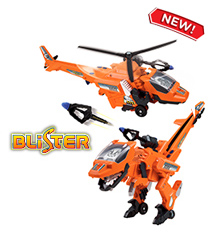 To see Blister in action, check out this video:

"Blister the Velociraptor" retails for $24.99 and is available for purchase now at VTech.  Other Dinos available include:  Jagger the T-Rex™, SkySlicer the Allosaurus™, MC Roar the Giganotosaurus™, Stompsalot the Amargasaurus™, Quiver the Stygimoloch™, Torr the Therizinosaurus™ and Akuna the Velociraptor™.  For more information, be sure to follow VTech on Twitter and Facebook.
Dino lovers listen up!  VTech is offering one lucky WMN reader a chance to win a "Blister the Velociraptor"!  For your chance to win, just follow the Rafflecopter rules below.
DISCLOSURE:  VTech Toys sent me product to facilitate my review.  All opinions stated are my own.