A few weeks ago, I was lucky enough to be treated to a "Girls Getaway" in New Orleans. This weekend was co-hosted by the New Orleans Hotel Collection and Travel Girl Magazine.  While I am a New Orleans Native, it is always fun to play tourist in my hometown, and I was super excited to spend to weekend with my IRL and Bloggy best friend Bridgette from Experimental Mommy. It was also a great opportunity to make some new friends and find some gems in the city that I didn't know existed.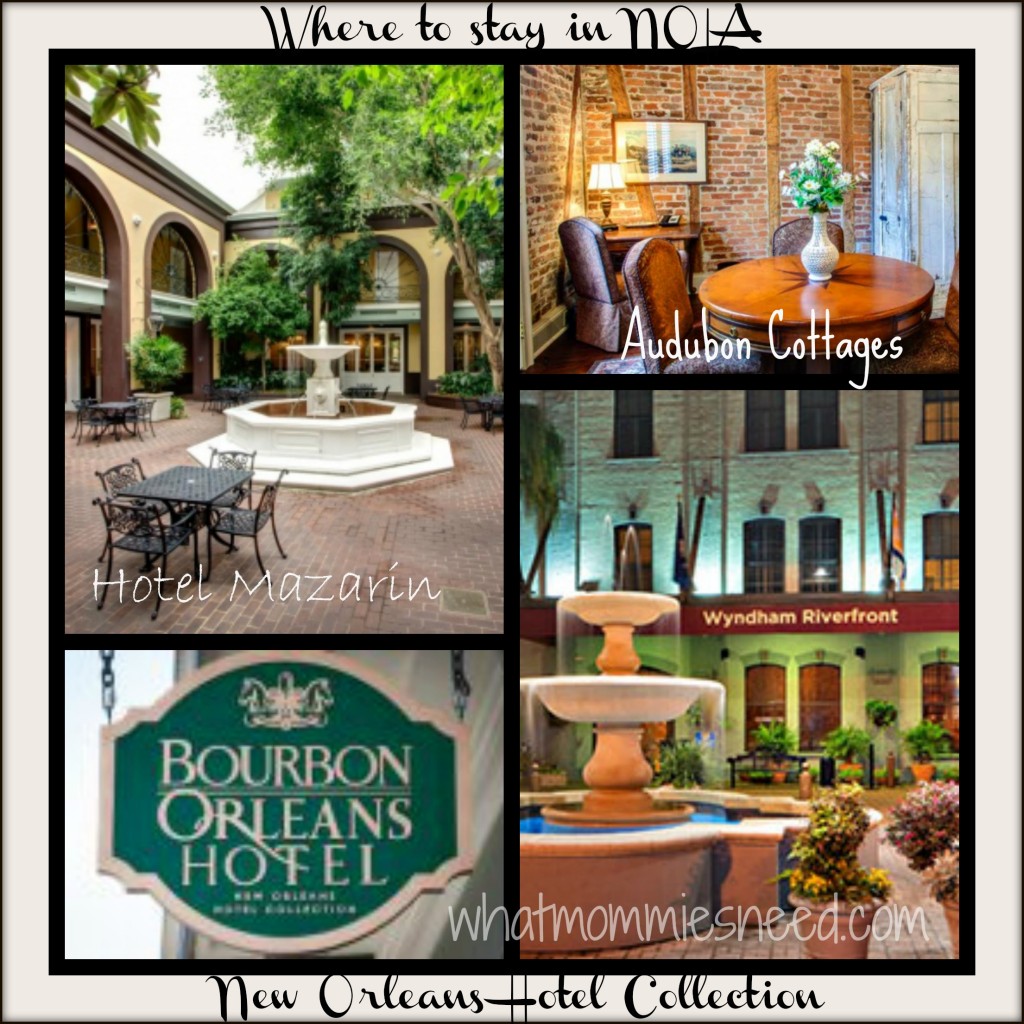 Since I have so much to share, this will be the first of three posts, which will highlight:
• Where to Stay
• Where to Dine
• What to Do
So, let's get going! First thing you need to do when planning your trip to NOLA (this is how the locals refer to New Orleans) is decide where you will rest your head. Thanks to the New Orleans Hotel Collection, you are covered. They offer a variety of styles and in all different areas of the French Quarter.
Here is list of New Orleans Collection Hotels, and a brief description of each:
Bourbon Orleans– The iconic Bourbon Orleans Hotel is located in New Orleans' exciting French Quarter. Located adjacent to two great New Orleans landmarks, the St. Louis Cathedral and Jackson Square, the Bourbon Orleans Hotel is in the center of it all. It has a rich history along with a vibrant present. Also, this hotel is known for being haunted and the home of many ghost sightings.
Dauphine Orleans– An unforgettable boutique hotel in New Orleans' French Quarter, the Dauphine Orleans Hotel welcomes guests with personalized service in a unique setting. Our historic French Quarter Hotel features buildings that date back to the early nineteenth century, such as our Audubon breakfast room where John James Audubon painted his Birds of America series from 1821-22.
Wyndham Riverfront– Enjoy the best of the past and present in a single location at the Wyndham Riverfront New Orleans hotel. Only steps away from top attractions in the Big Easy, this hotel in the Warehouse District of New Orleans pairs historic features like original exposed brick and plantation shutters with modern touches.
Hotel Mazarin– The new Hotel Mazarin features 102 brilliant and spacious rooms and the French Quarter's most elegant courtyard with European style fountain as its centerpiece. Our guestrooms are thoughtfully appointed to cater to the modern traveler while preserving New Orleans' signature charm. Our luxury boutique hotel is committed to offer a 100% smoke-free environment for our guests.
Hotel Le Marais– Be inspired by an effortless amalgamation of classic and modern. Hotel Le Marais is an upscale boutique hotel in New Orleans. It is where the trendsetters, influencers and fashionistas go to stay in the heart of it all. Set amid a historic and cultural backdrop, this French Quarter hotel is a modern and upscale sanctuary with four-star amenities and a high level of personal service.
Audubon Cottages– The newly renovated Audubon Cottages are a historic collection of seven cottages that offer guests private, luxury hotel accommodations in the French Quarter. The seven Cottages include private, guest-only access with a shared saltwater pool, said to be the oldest pool in New Orleans. Set in original brick, the pool is surrounded by lush foliage and offers seating in wrought iron chaise lounges. The Audubon Cottages have the feel of being a secluded hideaway while just steps from the best New Orleans has to offer. Guests enjoy a unique French Quarter experience with all of the benefits and amenities of a boutique hotel. A French Quarter butler is on hand to attend to every detail for each guest.
Crown Plaza New Orleans Airport– The Crowne Plaza New Orleans Airport hotel in Kenner is located just 2.5 miles from the Louis Armstrong International Airport and 12 miles from downtown New Orleans. Let our complimentary airport shuttle service take the stress out of travel. Our friendly and attentive staff will ensure you have a comfortable stay with us.
My weekend stay was spent at the Bourbon Orleans. The renovated room was nice and spacious. The bathroom was large, boasted a walk-in shower and offered plenty of space for two girls to get ready. While we did not hear the outside noise from Bourbon Street, the inside guests were up to partying. I would recommend this hotel for travelers who are looking to have a good time!
The other hotel that we got to visit, was the Audubon Cottages. These secluded cottages are perfect for a romantic getaway and I have already told my husband to start packing. Full of beautiful antique furniture and in walking distance to great restaurants and nightlife, the cottages offer a serene getaway. I will mention that this hotel is only available for adults.
As you can see, The New Orleans Hotel Collection offers a perfect fit for any traveler. While most of their hotels are not family friendly, the Wyndham and Crowne-Plaze can accommodate children.  The fall is the perfect time to visit our city, so book your room now and come enjoy all New Orleans has to offer!