One of the best things about New Orleans is the food!!  We have so many unique dishes and here is the recipe for one of my favorite NOLA desserts: New Orleans Pralines.
New Orleans Pralines
Print recipe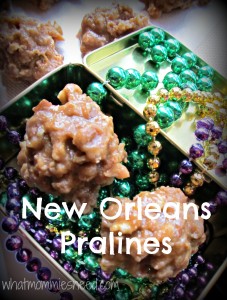 Ingredients
1 cup Light Brown Sugar
1 cup Granulated Sugar
1 cup Evaporated Milk
1/8 teaspoon Salt
1/8 teaspoon Baking Soda
1/2 stick Butter
1 teaspoon Vanilla
2 cups Pecans (Halves are traditional, but I like to use pecan pieces)
Directions
Step 1

Combine the first five ingredients in a heavy pot. Cook over medium-high heat, stirring continuously, until the temperature reaches 238 degrees on a candy thermometer (soft ball stage.) This takes a good little chunk of time - engage your husband or older kids.

Step 2

Remove from heat and add butter and vanilla. Beat by hand until the mixture slightly thickens.

Step 3

Add pecans and mix to cover. Drop spoonfuls onto wax paper to cool. The size is completely up to you. I usually use a small ice cream scoop that might be a heaping tablespoon. Some folks like giant pralines. Make bite sized candies for parties.

Step 4
Store in an airtight container or freeze.