Disclosure:  Racetrace is sponsoring the content in this post.  All opinions stated are my own.
If you family is anything like mine, from Thanksgiving to Christmas is crazy time!  We spend more time on the road than I would like, which makes cooking nearly impossible.  Also, money becomes a little tight with all of our shopping.  Sometimes we just have to pick up a quick snack on the road between school and our next event.  Thankfully, Racetrac has me covered all month long with their Grab and Go Roller Grill Items.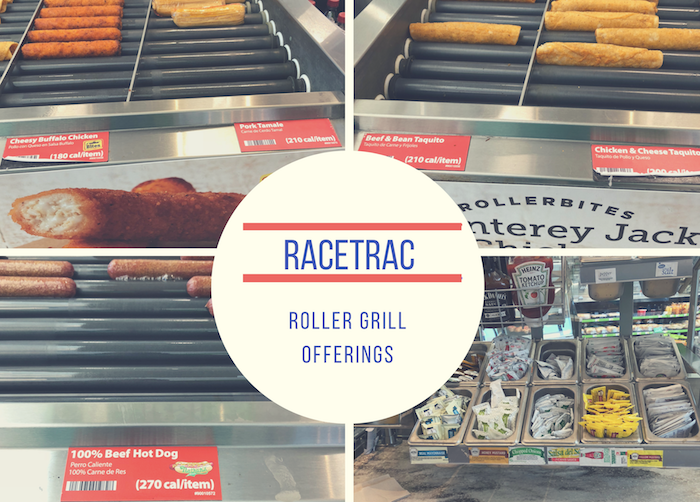 Last month, we focused on hot dogs, which are premium Nathan's brand dogs, but the RaceTrac Roller Grill has more than just hot dogs!  Here is a list of their most popular Roller Grill Items:
Nathan's Famous 100-percent Premium All Beef Hot Dog: our number-one seller and a great
source of protein for anytime of day!
Tamales: unique to RaceTrac, traditional corn husk-wrapped and stuffed with seasoned pork
Taquitos: battered and fried tortillas filled with meats, cheeses and delicious spices
Roller bites: breaded chicken product in such flavors as Monterrey Jack and Buffalo
And, you can top these items at the Roller grill Toppings Bar which includes: Sauerkraut, sliced jalapeños, banana peppers, salsa, jalapeño pickles, sour cream, diced onions, ketchup, mustard, nacho cheese, nacho chili.  While there are other offerings, the hot dogs are still our favorite item.  Here are some fun hot dog facts.

My kids also love stopping in for a Swirls treat of frozen yogurt and their topping bar.  This is an awesome treat for them!
Remember, all Roller Grill Items at RaceTrac are currently buy one, get one for $1, which will continue throughout the remainder of the year!
To learn more about this deal visit RaceTrac.com or stay social by following them on Facebook and Twitter.