Disclosure:  Quarto Group provided these books to facilitate this post.  All opinions stated are my own.
Over the last couple of months, I have rediscovered how much I enjoy coloring.  Mostly I am hijacking Blake's gel pens and coloring books, but recently, this mama got her own books.
Quarto Group sent me these three fun titles to check out:
Mom and Me: An Art Journal to Share – retail price $12.99

This full-color art journal for moms and kids to color and draw together in is designed to be a sharing experience. Mom and child can write each other letters, draw what scares them, imagine what they want to be when they are grown up, color a scene using only one favorite color, whatever their imaginations lead them to!
So, since my kids are a little bit older, this book has a fun spin for me.  I get to see their craft side, which tends to be a little silly, but is still a means of communication.  There are pages that ask some of the heavier questions, like what is weighing you down, which I think is a good way to start the conversation with my teenage son.
Hand Lettering A to Z: A World of Creative Ideas for Drawing and Designing Alphabets – retail price $22.99

Hand Lettering A to Z is a fun, hands-on book in which artist and calligrapher Abbey Sy presents her creative lettering and invites artists from several countries to contribute alphabets of their own–all unique, all hand drawn. Each alphabet is paired with a collection of phrases to show readers different ways to use the lettering and have fun with it in different languages, including French, Spanish, Irish, Swedish, Portuguese, and more. Readers can use the phrases when making cards, gifts, or embellishing their journals. And unlike calligraphy, hand lettering does not require disciplined study. Hand-drawn lettering is meant to be personal and original, so even beginners can dive in!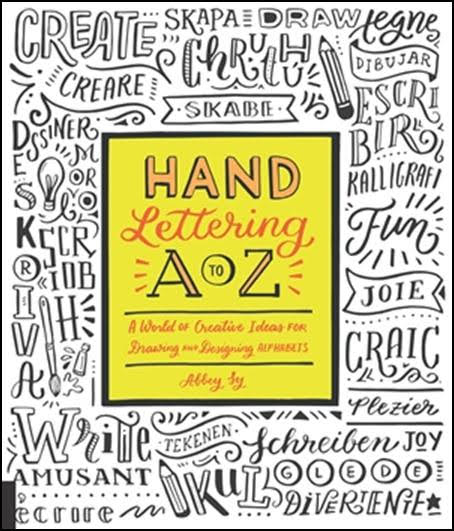 Blake and I have thumbed through this book, and can't wait for summer, so that we have time to start doing some fun lettering.  I think I may even order us some special pens to use.  What a great way to get kids to practice handwriting in disguise.
Stick it to 'Em: Playful Stickers to Color & Create: 275+ stickers with sass for family, friends, and frenemies – retail price $19.95

Stick it to 'Em is your invitation to play as you create customized stickers with sass! With just a hint of silly irreverence, this guide includes a list of colorful art tools in addition to easy drawing and lettering techniques and step-by-step tutorials, all designed to get your cheeky creativity flowing. You'll then be treated to more than 35 pages of stickers, including a selection of fully designed styles to use any way you like, a variety of stickers to color in, and blank stickers to create your own. Filled with tons of puns, wit, and wisecracks, Stick it to 'Em is your answer to getting through each day with humor and fun.
This book is totally my jam!!  Remember when you were little and loved collecting stickers?  Well, these are stickers with the perfect snarky twist for adults AND you can create your own.  I really want to create stickers for my co-workers and hand them out.  I also want to make Parenting Gold Stars, for all the daily things we do that feel like such an accomplishment.  So much fun!
To purchase these books, find more fun titles or learn more about Quarto Books be sure to check out their website: Quartoknows.com and then follow them on Twitter.