Nickelodeon Hotel provided tickets to see the Double Dare Live Show.  All opinions stated are my own.
Growing up, one of my favorite shows to watch was Double Dare on Nickelodeon, and I use to always think how cool it would be to go on the show!  Honestly, I think that was a dream for almost any child in my generation.  Who didn't want to get slimed?!?  Fast forward many, many years and I got to check out a Double Dare Show live at the Nickelodeon Hotel!  Now, I did not get to participate, but the boys did get to help out with some fun games.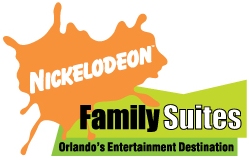 The Double Dare Live Show takes place in the mall section of the Nickelodeon Hotel, but you should check out the weekly online schedule for times and information.  They cast the show at the pool, so your family can even be chosen!  The show was lively and fun, and the emcees were great!  My boys had a blast, even though they had no expectations, and hubby and I enjoyed reliving the good old days!
The best part, was that they had kids from the studio audience participate in games and activities, so they felt like they were part of the show.  Blake was concentrating on winning this game!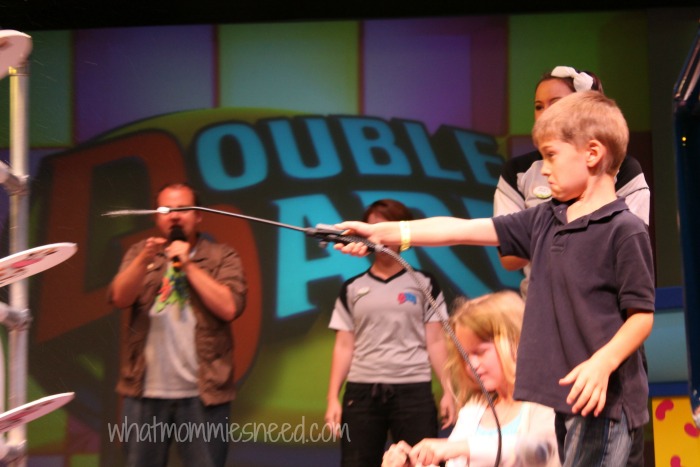 I think the whole family would agree that the Double Dare Live show is a must do attraction at the Nickelodeon Hotel.  And, if we ever went back, we would be sure to try our luck as contestants!
Reservations are required for the Double Dare Live Show, so be sure to reserve your seats for this fun show when you head to the Nickelodeon Suites Hotel!   To book your stay, or learn more, visit the Nickelodeon Hotel Site.  To stay social, be sure to follow them on Facebook and Twitter.