After attending Reviewers Retreat at the Great Wolf Lodge in the Poconos earlier this year, I knew I had to bring my boys to a Great Wolf for vacation this summer. I started out checking out all their locations, they have eleven of them, and decided that the one in Grapevine, TX was closest to us and our plans were finalized.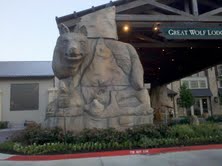 Here is some information about the Great Wolf Lodge from their site:  Your Great Wolf Lodge adventure begins in our massive, 84-degree indoor water park. Splash the day away in over 80,000 square feet of water-packed excitement, including jaw-dropping slides for thrill seekers or zero-depth entry areas for little ones. Outside the water park, the fun continues. Grab a wand and battle a dragon in MagiQuest or get an ice cream-themed manicure in Scooops Kid Spa before gathering your family in our Grand Lobby for nightly fireside Story Time, the perfect ending to a Great Wolf day.
I had told the kids where we were going and what they were in for, but it was still not enough to prepare them for what they were going to experience.  From the minute we walked into the lodge they were fascinated and entertained!  Blake was initially a little scared of all the wolves, but it did not dampen his fun in the least.  My absolute favorite part of going to the Great Wolf Lodge is that their is something for everyone, no matter what age the are! 
Here are the things my boys enjoyed the most:
-Wyatt loved the water slides and Magic Quest.
– Blake loved playing in the outdoor pool and turning the "sprinklers" on and off.
My husband and I had the best time just watching them explore their way through the lodge.  Wyatt was obsessed, as most of the kids there are, with Magic Quest.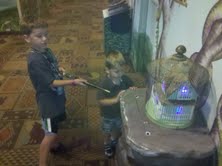 Here is what Magic Quest is all about:  With a magic wand in-hand, you'll explore an enchanted kingdom and join in the ultimate adventure as you enchant objects, befriend a pixie, learn from an ancient wizard, battle a goblin and outwit a dragon. We guarantee this live-action adventure game is unlike any other you've ever played. You're sure to become legendary when the getaway you planned becomes epic. 
My husband would like me to warn all of the adults who are planning to visit a Great Wolf location to do a lot of cardio workouts in preparation.  Between the water slides during the day and Magic Quest, which makes you use the stairs, at night he was as exhausted as the kids.LOL
While my husband and Wyatt did the water slides, Blake and I enjoyed the outdoor pool and some sunshine.  The outdoor kiddie pool is huge and was only around 2 feet deep, which gave Blake plenty of freedom to play.  The mountain and wolf water feature, which sprays alot of water was really neat.  I was very proud of Wyatt, who did every slide in the park before we left!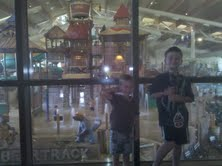 The hotel rooms are very family friendly and come complete with a microwave and fridge.  It was nice to have the sofa seating area, which did pull out into an extra bed.  The lodge has multiple dining options on site, so that you don't have to dress and leave the hotel for dinner.  They even had a pizza deal, which included a large pizza, salad, and a 2 liter soda for under $30!
We really enjoyed our stay at Great Wolf Lodge and I know the kids did too, since Blake keeps asking when we are going back to the wolves!
To begin planning your family adventure at a Great Wolf Lodge, visit their website at www.greatwolf.com.
PLEASE NOTE THAT THIS REVIEW IS MY OPINION. THANK YOU TO GREAT WOLF LODGE FOR OFFERING GIVING US A DISCOUNTED ROOM RATE TO FACILITATE THIS REVIEW.