I have always enjoyed eating Melba Toast, especially with a yummy pasta salad.  Something about the texture and flavor that is so satisfying.  That paired with the fact that Melba Toast is good for you makes it the perfect addition to a meal or a wonderful snack option.
Here is some information about Old London Melba Toast from their site:  Today Old London carries over 20 flavors of authentic, original, crunchy taste sensations in Rounds and Toasts. Make Old London part of your active, healthy lifestyle. Melba's satisfying, crisp bite makes it a light bread replacement for a quick lunch or easy snack. Try all the Old London products, a brand you can trust for a great flavor and outstanding quality. Look for the Old London Specialty Cracker Section in your local grocery store and find more than just Melba!!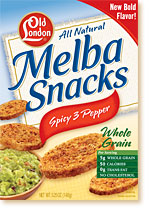 Old London was nice enough to send my family some samples of Melba Snacks to try.  As much as my husband and I both enjoy Melba Toast, we never thought of letting the have it for snack.  But, to our surprise both boys chowed down on both the Sea Salt and Spicy 3 Pepper flavors that we had.  Blake kept asking for more and Wyatt just kept grabbing these snacks by the handful.  I was really looking forward to trying out some of the recipes they have on their site, but the boys ate all of the toast before I could.LOL  I will have to get some more this week at the store, because I really want to taste the Chocolate Pistachio Crunch.
To give you "A Toast for Everyday Healty", Melba Toast wants you to 'Dance Your Way to Hollywood' and here is how you can:  "Dance Your Way to Hollywood" will send one lucky winner and a guest to Tinseltown for a once-in-a-lifetime experience, including private dance lessons and tickets to watch the taping of a highly popular television show.  The four-day, three-night, all-expenses-paid experience includes air travel and accommodations at a popular Hollywood hotel.  Sweepstakes entries accepted March 17 through June 30, 2010.
So get snackin' and be sure to enter the 'Dance Your Way to Hollywood'  contest!
I WROTE THIS REVIEW WHILE PARTICIPATING IN A BLOG TOUR CAMPAIGN BY MOM CENTRAL ON BEHALF OF OLD LONDON MELBA TOAST AND RECEIVED A SAMPLE  TO FACILITATE MY CANDID REVIEW.  MOM CENTRAL SENT ME A GIFT CARD TO THANK ME FOR TAKING THE TIME TO  PARTICIPATE.