Scholastic provided product to facilitate this review.  All opinions stated are my own.
Getting Wyatt to read was never a struggle, but Blake has been a different task all together.  While Blake has excellent reading skills, keeping his attention is a lot harder, especially at night when his ADHD meds have worn off.  Recently, Scholastic sent my boys the first four books of the Ricky Ricotta's Mighty Robot series to check out.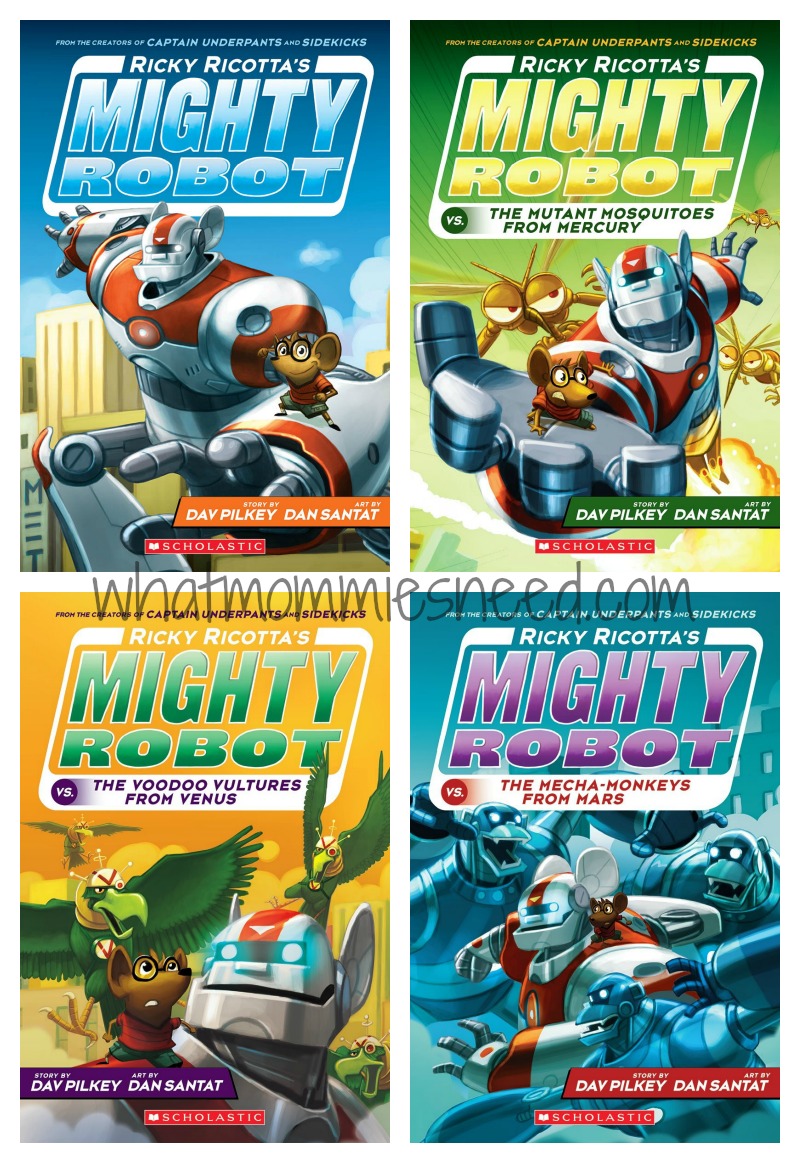 These books are more closely related to graphic novels, with full color images on every page, but the story line is completely appropriate for my little guy.  Blake flew through the first book and quickly asked for the second.  He just started book three and had declared that he loves these books so much, he wants to marry them!LOL
The Ricky Ricotta series follows Ricky, who is a little mouse with BIG problems! Every day he is picked on by the neighborhood bullies. He lives in Squeakyville with his mother and father, and being an only mouse, he is often lonely. That is until SOMETHING BIG HAPPENS! A giant flying robot enters Ricky's life and an unlikely friendship is born! Together, Ricky and his Robot must save the planet from a galaxy bursting with bad guys!
Here is a short trailer about the book series, which is from the creator of the Captain Underpants series:

For additional fun with this series, you can
To learn more, or stay social, be sure to visit the Ricky Ricotta Official Site, follow Scholastic on Twitter, or like Scholastic on Facebook.
Now for the super fun part!!  Scholastic is offering one lucky reader a chance to win a Ricky Ricotta Prize Pack (pictured below), which includes: a Backpack & colorful school supplies, Ricky Ricotta's Mighty Robot Book,  Ricky Ricotta's Mighty Robot vs Mutant Mosquitos from Mercury book, Ricky Ricotta's Mighty Robot vs the Voodoo Vultures from Venus book, and Ricky Ricotta's Mighty Robot vs The Mecha-Monkeys from Mars book.  For your chance to win, just follow the Rafflecopter rules below.