Spartan Media provided compensation to facilitate this post. All opinions stated are my own.
It's me, Angie from AngieKnutson.com. :) I had planned on posting a couple weeks ago about my husband's Spartan Super training regimen, but since my husband suffered a pretty serious hand injury (according to the doctor, he literally exploded the end of his left middle finger) crafting this awesome backyard tree house for our six year old son's birthday, his Spartan training has been a bit different the last few weeks.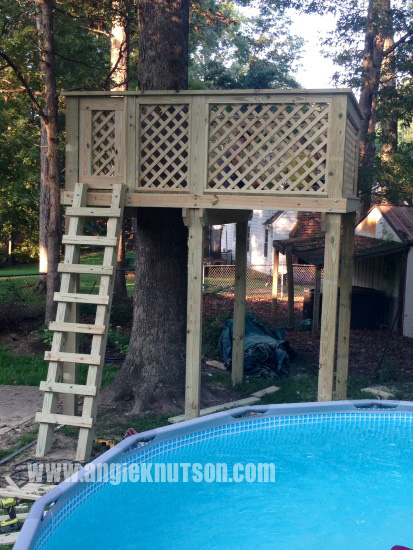 Expect to see a post next week on his training regimen! But until then, I wanted to stop by here and let you know how our Spartan Super experience went (Yes, he still raced!), and tell you about an AWESOME Spartan giveaway that you can enter! Here's a little refresher on the Spartan Race:
With over 130 events in 17 countries planned for 2014, Spartan Race continues to make obstacle racing one of the fastest growing sports in the world. The Reebok Spartan Race global race series features races at three distances, 3+Mile/15+ Obstacle Sprint, 8+ Mile/20+ Obstacle Super and 12+ Mile/ 25+ Obstacle Beast, culminating each year in the Spartan World Championship, which in 2014 will be held in Killington, Vt. on September 20. With competitive Elite heats and Open heats for all fitness levels, Reebok Spartan Races offer something for everyone. The Spartan lifestyle continues its goal of ripping people off their couches and helping them lead happier, healthier and more productive lives.
After Jeremy's hand injury, we were a little bummed to say the least. He had been training hard for the Virginia Super, and we were worried about the effect the race would have on his hand. Knowing that most, if not all, of the 26 obstacles in this 8 mile race would require him to have two good hands, we were hesitant. The injury happened exactly a week before race day, and he was able o get an appointment with the surgeon the day before we headed to Wintergreen for the event. After some updated X-rays and stitches removal, the surgeon said his hand was healing well, and he would give Jeremy the green light to race as long as he followed some instructions, and made sure to bandage and protect his finger properly to prevent infection . All my husband heard was, "Yes!"
When we arrived in Wintergreen the morning of August 23rd, the fog was thick and the rain was coming down steady at the ski resort venue – not fabulous racing weather. Even with the yucky downpour, the staff and racers were still all in good spirits, and excited about the days event. Jeremy had an earlier start time than the last race, and even though the fog was super thick (you could seriously barely see in front of you), we discovered there were some definite pros to having an early start time. The elite heats happen early, and the majority of these racers are athletic and quick. That means there are very few people, if any, holding you up at obstacles, a benefit if you are hoping to improve your time. This also means that you get a fresh course. Jeremy learned the hard way last race that this is a huge benefit. After several hundred or thousands of racers have gone over each obstacle, the mud begins to cake on and make everything that much slipperier and harder to traverse.
This particular venue happened to be a ski resort, and a quick ride through the fog on the chairlift offered us spectators a great view of the course. It was pretty cool, and the kids loved it! Since the weather was pretty nasty, I didn't bring out the good camera, and really only caught a few snapshots with my phone when it wasn't raining. That's why I love the official race photos from Spartan! They captured this awesome pic of Jeremy at the finish line, among other photos that I couldn't have gotten that day.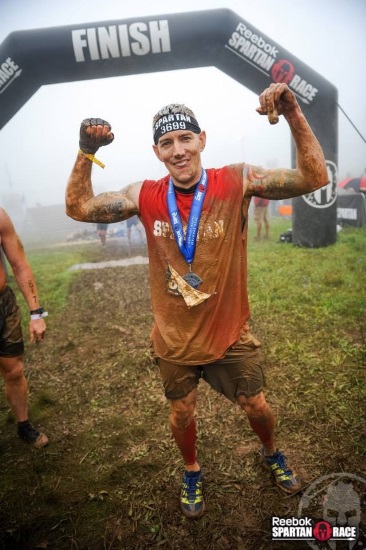 You can view the photos online and on the Spartan Facebook page after each race. Tag yourself and let all your friends see them too!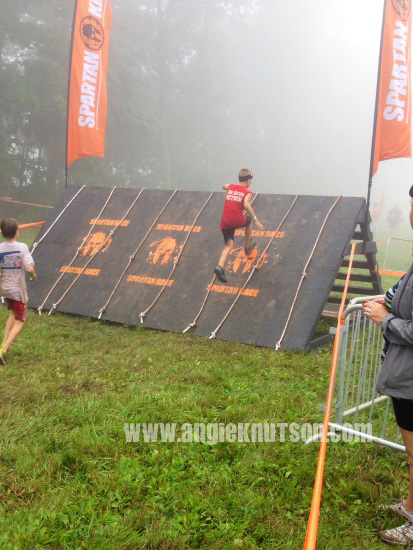 The kids were excited to race again at this event, and did fantastic. John David had no need for the ropes on this obstacle! After they all finished, including Jeremy, I had a very tired but satisfied crew. Jeremy said the Virginia Super was the toughest race he has done so far, and he managed to complete all but one obstacle with only one good hand. Way to go, Dad!
This crew of mine is Beast-Bound this month, as we travel to the ?2014 Spartan Race World Championship Race in Killington Vermont on September 20th-21st! Jeremy will be racing the Spartan Beast and completing his Spartan Trifecta!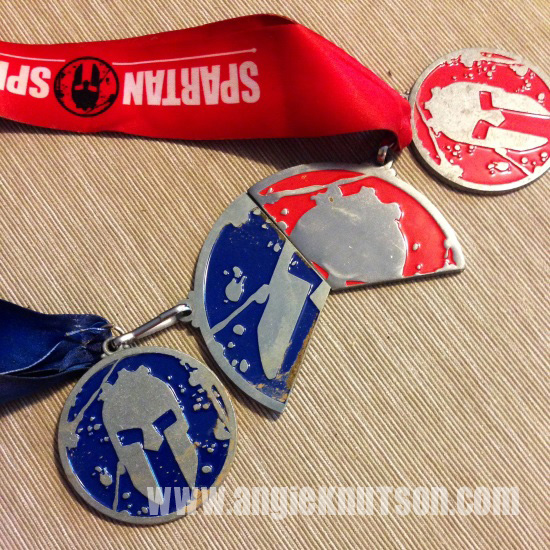 We are pretty stoked, and excited to close out our first year of Spartan racing, as we look forward to next year's races as well. Vermont should be AMAZING, and we can't wait! My family has so inspired me this year. So much so, that I will be racing a Spartan Sprint next season with my oldest daughter, Caitlyn, who will be 14, and old enough to run an adult race. It's all about staying active TOGETHER!
Would love to see you in Vermont at the ?2014 Spartan Race World Championship Race, or you can find a race near you. There's already races scheduled for next year, so register and start training NOW using this 10% off code!
#SPARTANUP using code SPARTANBLOGGER good for 10% off any race registration!

Spartan racing has entered a whole new level with the all-new Spartan Race Cruise! ENTER HERE to win a Spartan Race cruise for two, and see below for more info about the event:
Spartan Race, the world's premier obstacle race company, will host a deluxe Caribbean cruise from the Port of Miami to a private island in the Bahamas on March 6 to 9, 2015. The three-night Friday afternoon through Monday morning experience will feature an all-inclusive Norwegian Cruise Line cruise on the luxurious Sky from Miami, a 3+mile/15+ obstacle Spartan Sprint on a private island in the Bahamas' Great Stirrup Cay, live music, dancing, all meals, and what's considered best of all: a $50,000 prize pool for Elite racers. The oceanside course will be hosted by Spartan founder Joe De Sena who will join the estimated 2,000 race enthusiasts and their families for this first-ever totally immersive island experience.
Included in the package price (cruise prices starting at $829):
–3 day cruise
–3-½ mile Sprint Race with 15 obstacles – led by Joe De Sena
–$50,000 prize pool for Elite Racers**
–Kids travel FREE** (up to 17 years of age at time of booking)
— Meals Kids Jr. Spartan race (ages 4-13)
–Onboard entertainment
–Book signing by Joe De Sena
–Guest speakers
–Award ceremony, finisher's medal and professional photo and video
–Gratuities
–Insurance
–Spartan Cruise t-shirt
–Full day at Great Stirrup Cay for lounging and playing with family and friends
* The first 200 racers that sign up for the "Elite" wave will be eligible for the $50,000 prize pool. The 200 spots will be on a first come, first serve basis.
** Kids Travel Free – Children 17 and under at the time of booking are free* but are required to pay the Port Charges/Taxes/ Gratuities/Admin Fee/Cancelation and Medical Emergency Insurance: $288.00 per child – *ONLY if they are the 3rd or 4th passenger in the cabin. Otherwise, they will pay full price.
Register at  www.thespartancruise.com.