It's holiday time in Bikini Bottom and SpongeBob SquarePants is ready to make his Blu-Ray debut in It's A SpongeBob Christmas!  Nickelodeon will be releasing this title on October 15, 2013, and I have a the information you need right here, since I received a copy to preview.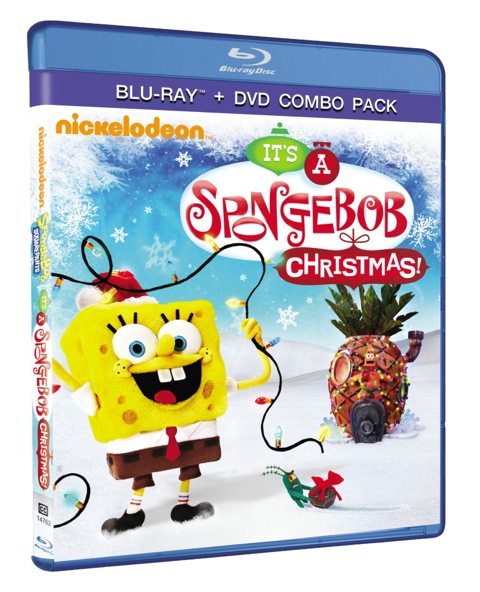 In It's a SpongeBob Christmas! Blu-Ray
Plankton vows to get his Christmas wish – the Krabby Patty formula – by turning everyone in Bikini Bottom bad by feeding them his special jerktonium-laced fruitcake. John Goodman guest stars as Santa Claus.
This stop-motion episode was different than what my boys are used to with Spongebob, but they enjoyed it just the same.  They still had plenty of giggles and had fun getting in the Christmas Spirit!  They also enjoyed watching all the episodes from Season 1 that they had not seen in a long time.
It's a SpongeBob Christmas! Blu-Ray
has a running time of approximately 145 minutes and includes a digital copy of the It's A SpongeBob Christmas! special as well as the following:
          ·  Audio: English 5.1 DTS-HD Master Audio Surround, French 2.0 Stereo, Spanish 2.0 Stereo
          ·  Feature Stop Motion Special in high definition
          ·  Bonus SpongeBob SquarePants Episodes: "Ripped Pants," "SB-129," "Texas," "The Graveyard Shift," "Something Smells,"   "Jellyfishing," "Dying for Pie," "Wormy," "F.U.N." and "Club SpongeBob"
          ·  Special Features:
                    o   Behind the Scenes
                    o   Animatic
                    o   Yule Log
                    o   Two MP3-Compatible Songs: "Santa's Eyes" and "Hot Fruitcake"
                    o   Violent Femmes Sing SpongeBob SquarePants (BD Exclusive)
                    o   More SpongeBob SquarePants Secrets (BD Exclusive)
This Blu-ray release will also be enabled with UltraViolet, a new way to collect, access and enjoy movies.  With UltraViolet, consumers can add movies to their digital collection in the cloud, and then stream or download them – reliably and securely – to a variety of devices!
It's A SpongeBob Christmas Blu-Ray retails for $21.99 and can be pre-ordered now from amazon.com
.
Want to win a copy before you can buy it?  Great, because Nickelodeon is offering one lucky reader a chance to win a copy of It's A SpongeBob Christmas on Blu-Ray!  For your chance to win, just follow the Rafflecopter rules below.
DISCLOSURE- Nickelodeon provided a copy of this Blu-Ray to facilitate my review and giveaway.  All opinions stated are my own.