Disclosure: Philips Sonicare provided product to facilitate this post.  All opinions stated are my own.
I used to think that we were on the right track to teaching our kids how to care for their teeth.  That was until about 6 months ago when Blake when in for his routine cleaning and they found FOUR cavities in his mouth! Yes, FOUR!!  Since, I have never had a cavity, I was mortified.  Four fillings later and we have really ramped up our oral health care routine.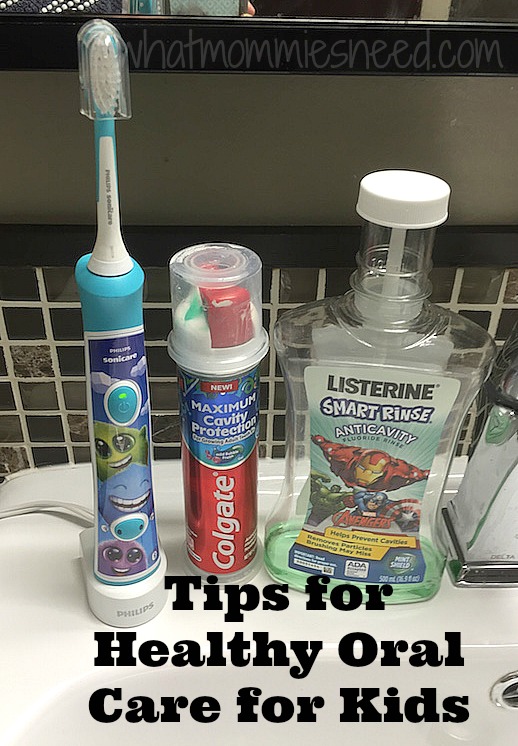 Here are some of tips to teach your kids for a healthy mouth:
Brush twice a day for TWO minutes!  Now, for a kid, 30 seconds feels like two minutes.  This is why I recommend a kids power toothbrush that will keep time for them.  The Philips Sonicare for Kids is a great option and even comes in an Ice Age design where your child can decorate their brush.  This rechargeable brush retails for $49.99 and comew with Bluetooth® technology that connects the power toothbrush directly to its customizable FREE interactive Ice Age coaching app.
Floss twice a day.  This was a step that we were missing!  I highly recommend Flossers, which makes flossing easy for little hands and mouths.  These actually help me floss their teeth easier as well.
After brushing, rinse with Listerine Smart Rinse.  This not only helps remove particles that brushing may have missed, but also provides Fluoride, which helps to strengthen teeth.
Try to decrease your child's sugar intake.
Visit a dentist regularly.  We take our boys every six months for a cleaning and check up.
I am happy to say that Blake's last dentist visit was a lot less painful and there were NO cavities!
To learn more about the kids power toothbrush, be sure to visit Philips Sonicare for kids.  To stay social with Philips, be sure to follow them on Facebook and Twitter.