It is that time of year again, where all of us Southern folk, begin our yearly preparations for Hurricane Season.  The fact that we already had a disturbance before the official start of the season did not go unnoticed, which made me realize that it is time to go through my yearly rituals. Here are a few tips that keep my family prepared and I hope they will help you out as well.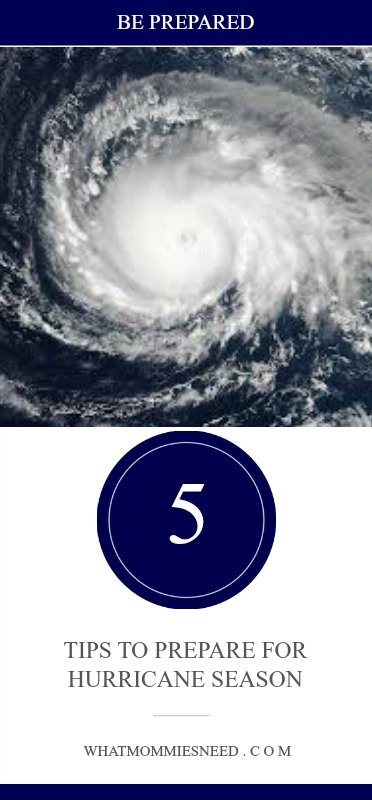 While I do know that most things are available digitally, I always make sure that I have the most updated copies in paper form of the following:

Homeowner's Insurance
Flood Insurance
Kids' shot records
Kids' last report cards
Pets' vaccination records

Paper copies of prescriptions that are on auto-refill or automatically sent to the pharmacy.  This is a biggie for my son, whose medicine is a controlled substance, so they won't transfer it to another pharmacy to be filled.  If we were to be gone and out of contact with his doctor, this could cause a huge problem.
Updated list of places to stay.  Once again, I know this is the digital age, but many times I have seen people book online only to arrive and find out that the hotel was overbooked.  In these times, it is always better to contact the hotel directly to book a room.  We always have a list of options, pet friendly for us, in multiple directions so that we can start calling immediately if we feel that we will need to evacuate.
Start emptying your freezer.  This one always cracks people up, but in the south, we start making sure to eat things out of our freezer at the beginning of summer.  I think anyone who emptied out a freezer in September after our houses didn't have power for four weeks lives by this rule
Keep in mind that you may be leaving your house for more than a weekend.  Be sure to pack your favorite photos and special items, if you have space.  And, be sure to have cash or traveler's check.
These tips are mostly focused on evacuating, because I don't ride out a storm if it is bigger than a category 2.  Hope these tips help you to prepare for the worst, but always hope for the best!