Let's face it, our kids are like sponges, and seem to pick up information at an accelerated pace.  I love when the boys come home from school and are super excited to share all the new words that they learned in Spanish class.  Sad part is, they only get Spanish, twice a week.  But, recently I found a way to let them learn a new language at home, with Little Pim.  We received a set of DVDs and a cute little stuffed Pim companion for review, which the boys were more than willing to try.
Little Pim believes that all children deserve to learn a second language and designed a program for kids ages newborn to 6 years old.  Little Pim provides parents with a comprehensive program that helps their child learn a foreign language even if the language is new to them too. Children will love following along with Little Pim, the adorable cartoon panda bear who serves as the "teacher." Together with Little Pim, they can learn 360 words and phrases, providing the essential building blocks for language learning.  This program is available in 11 languages, including:  Spanish, Chinese, French, Italian, German, Japanese, Arabic, Hebrew, Russian, English, and Portuguese.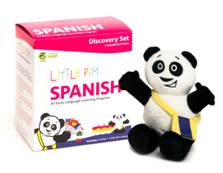 Our family received the Chinese Discovery Set, which included:  Three (3) videos: Eating and Drinking; Wake Up Smiling; Playtime (digital or DVD), a Plush Little Pim toy, and a Little Pim poster.  This set retails for $59.99.  Blake immediately claimed the plush Little Pim as his own and asked about the videos.  I explained to him that they would teach him how to say words in Chinese and that really peaked his interest.  The videos each contain 7 episodes, broken into short 5-minute intervals to keep your child engaged.  I found the videos to be informative, but yet fun and silly enough to keep Blake's attention.  He likes when Little Pim shows up and was having fun trying to repeat the words.  He even used a few of them when setting the table that night.  Wyatt, my eight year old, even had fun watching along and trying to say the words.
You can find these language sets at LittlePim.com or you can purchase Little Pim Special Edition Discovery Sets, which retail for $39.95 exclusively at select Toys"R"Us® nationwide and at toysrus.com.  For more information, be sure to follow Little Pim on Twitter and Facebook.