Disclosure:  I am a member of the Pampers Baby Board.  I was compensated for participating in this program but all opinions stated are my own.
I find that I am a realist in all things.  While I love things that are sparkly and pretty, my mind tends to focus on the cost, and if this is something I really need to purchase.  I remember registering for baby items, doing all the research and deciding that some things weren't worth the cost.  Some items, like the crib and changing table, I chose to borrow from my sister and other items, like the wipes warmer I decided were completely unnecessary.
While I love buying gifts for new moms, I find myself in the same state of mind.  I hate purchasing something that I don't think will be used, because I see it as wasting money. A recent Pampers survey uncovered that 62% of moms have regrets about their baby registry – and of those who do, the top regret is that they didn't register for enough practical items.  Check out the infographic below for more survey findings: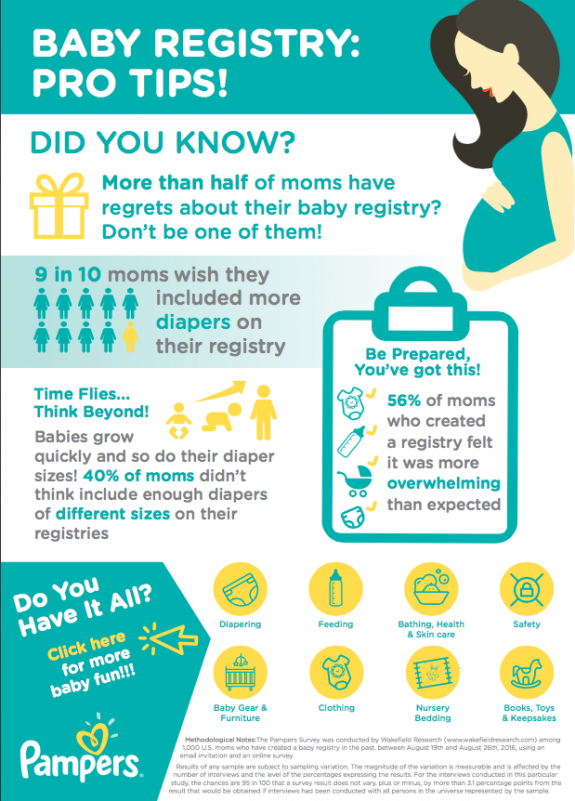 That being said, here are my top five items that I LOVE to purchase off baby registries:
Pampers Diapers and Wipes– no surprise here, since you all know how much I love this brand!  Also, we all know that you can never have too many diapers.  The Pampers Swaddlers are my favorite for newborns, because they are so soft on baby's skin and work great.
Baby Gowns– I am seriously shocked that I had a hard time finding these when I last went shopping.  To me these are the easiest item to use when baby is little and makes changing a diaper a breeze!
Burp Cloths– I used burp cloths non-stop, especially with Blake who was a spitter. Since they are constantly getting dirty, I find I needed plenty on hand. I think Blake got so used of their feel, that he used them as his snuggly for years.  I found Aden and Anais now makes a burp cloth that doubles as a bib and it is awesome!
Steam Sterilizer Bags– greatest invention ever!  I remember finding these after I had Blake and being so sad they didn't exist sooner.  Medela makes them, but are great even if you aren't nursing.  I saved so much time sterilizing at the end of the day with these bags.  Pacifiers, bottle parts, toys, etc., you name it and I sterilized it.
Bath Towels and Grooming Kit– baby bath towels are so cute and a total necessity, since I washed all my kids' towels separately in Dreft.  Grooming Kits are a must, because nobody warns you that your baby's nail equal those of a Pterodactyl until it is too late and you are desperate for a teeny tiny pair of nail clippers!
Recently, I got to do a special give-back with Pampers that included all my favorite registry items!  I partnered with a local non-profit, Hope Women's Clinic, where I made up FIVE Baby Registry Packs for expecting moms.  As you can see, I was able to really pack a lot into my bins, thanks to Pampers!  I hope these packs brighten up an expecting mom's day and she loves these items as much as I do!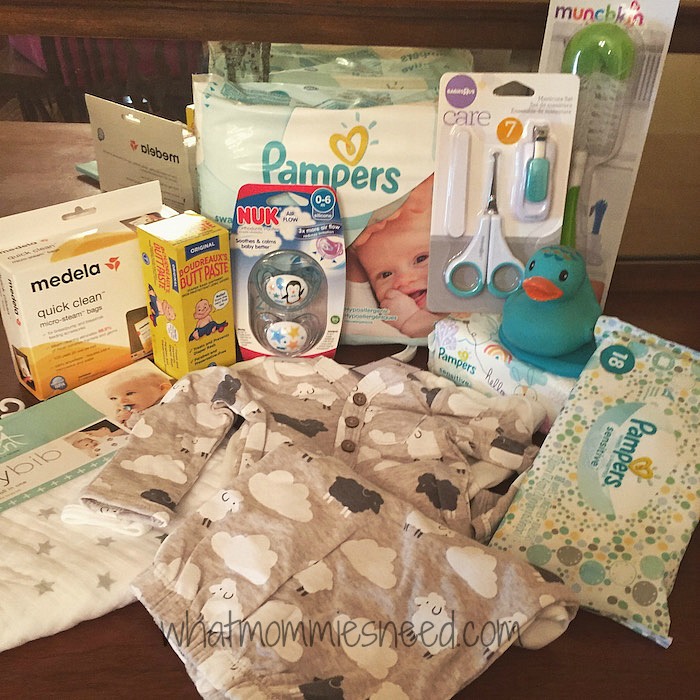 To learn more about the Pampers, be sure to following along on their social sites:  Facebook, Twitter, and Instagram.
Now for a fun giveaway!  One lucky reader will win a "Registry Prize Pack" from Pampers, which includes: Pampers Registry Checklist, a baby planner, a stress ball, a book to read to baby, diapers, wipes, and coupons.  For your chance to win, just comment below with your favorite baby registry item to buy.  Contest will end on November 18th at midnight CST.  Good Luck!