Disclosure: CraftWorks sponsored this post.  All opinions stated are my own.
Are you heading out shopping on Black Friday?  Well, once you have walked till your feet are aching and you need a bite to eat, leave those turkey leftovers for another day and head on over to your local Gordon Biersch or Rock Bottom Restaurant for their Burger & Beer Deals!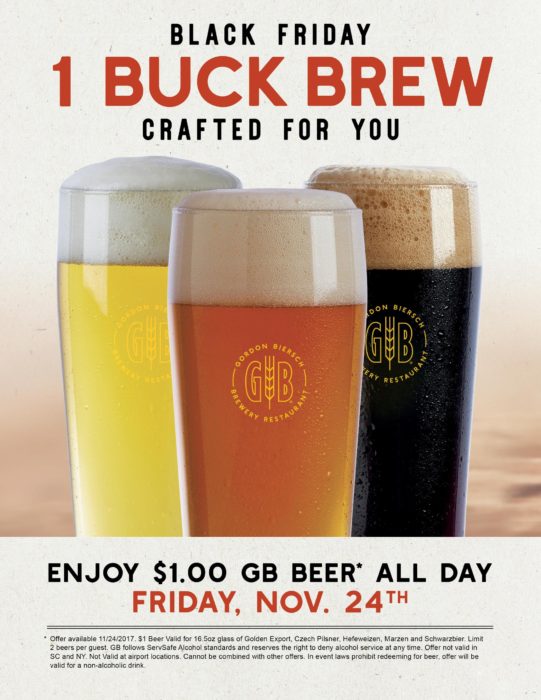 Here are all the deets:  Gordon Biersch and Rock Bottom Restaurants & Breweries will participate in the Black Friday sales frenzy by offering our award winning, deliciously tasting and refreshing $1 Craft Beers all day long on November 24th to quench the thirsts of weary shoppers. And, in addition to kicking off Black Friday with $1 craft beer deals, Gordon Biersch and Rock Bottom are also selling a limited quantity $50 coupon book with deep discounts that extend year-round. This will be available to the first 100 guests at each restaurant location. Valued at $650, the Gordon Biersch coupon book includes 52 weekly coupons for a 64oz Craft Beer Growler fill in a branded growler such as the classic German Helles style lager. The Rock Bottom $50 coupon book valued at $780 includes 52 weekly coupons for gourmet chef created burgers like Maker's Mark Bourbonzola Burger.
I know I love me some garlic fries and could definitely use a drink or two after the craziness that is Black Friday Shopping.  To learn more about this deal, visit the CraftWorks Restaurants site.  To stay social, be sure to follow Gordon Biersch on Facebook and Twitter or Rock Bottom on Facebook and Twitter.