It's time to go on some winter adventures with the Bubble Guppies and Team Umizoomi.  The holidays are not the same if you can't share them with your friends, and the Bubble Guppies and definitely some of my Blake's favorite friends.  Thanks to Nickelodeon, for sending my family a sneak peek copy, of Bubble Guppies/Team Umizoomi: Into the Snow We Go on DVD!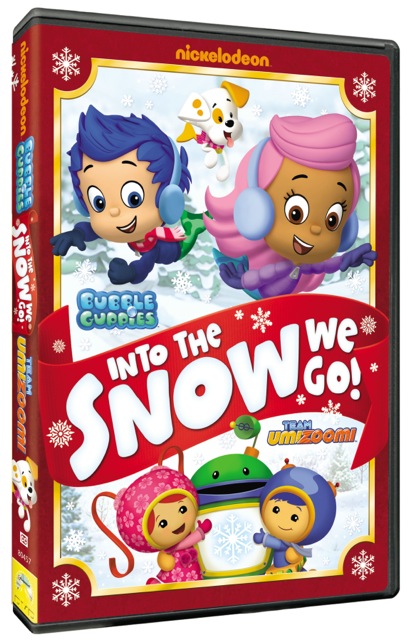 Here is a list of episodes, and their synopsis, which are included on this DVD:
Bubble Guppies: Happy Holidays, Mr. Grumpfish!– Everyone is getting ready for the holidays … everyone except Mr. Grumpfish. The Guppies do their festive best to show a grumpy neighbor the joy of the holiday season.
Team Umizoomi: A Sledding Snow Day–  The Team's friend Sanjay is desperate to go sledding, but there's a problem: he doesn't have a sled! Milli, Geo and Bot must embark on a snowy journey through Umi City to bring a super-sled to Sanjay.
Team Umizoomi: City of Lost Penguins–  The Team is at the Zoo to see the new exhibit – 50 adorable baby penguins! But when the TroubleMakers set the penguins loose all over Umi City, Milli, Geo and Bot must collect all 50 penguins and return them to their home.
Like I have said before, Blake LOVES Bubble Guppies, and I think he secretly wants to be one!  He has seen the Happy Holidays, Mr. Grumpfish! many times, but still thinks it is awesome!  He gets so tickled anytime the gang can make Mr. Grumpfish smile.  He enjoyed both Team Umizoomi episodes, but of course, the Bubble Guppies was his favorite!
Bubble Guppies/Team Umizoomi: Into the Snow We Go has a running time of approximately 69 minutes and retails for $14.99.  This DVD is available for purchase now from amazon.com
.
Are you ready for some holiday cheer in your house?  I hope so, because Nickelodeon is offering once lucky reader a chance to win a copy of Bubble Guppies & Team Umizoomi: Into the Snow We Go on DVD!  For your chance to win, just follow the Rafflecopter rules below.
DISCLOSURE: Nickelodeon provided a DVD to facilitate this review and offer a giveaway.  All opinions stated are my own.