Disclosure: Carbona provided product to facilitate this post.  All opinions stated are my own.
Being a mom of two boys has taught me a lot over the last 13 years, but as we all know, there is always room to learn.  The one thing that I can say is that there is never a lack of laundry. Honestly I think they create new stains just to test me.  Between art class and lacrosse and just being boys, I have given up asking "What did you do today?".  Carbona Stain Devils must have known I needed help, because they asked if I was interested in checking out their products. YES, sign me up!!
Carbona Stain Devils are specifically formulated for specific stain types. Their complete system removes the most common and difficult stains from fabrics, including ballpoint ink, blood, coffee/tea, fat/cooking oil, grass, grease/motor oil, ketchup, paint, perspiration, and many more.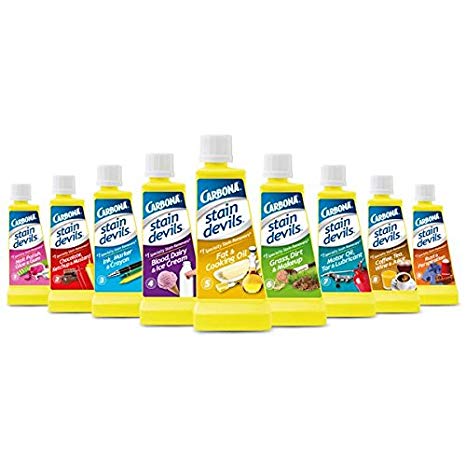 While I may still have to ask, "What is this?", at least now I have a way to remove the stain.  The grass and paint formulas are perfect for the kids and I know I will put the coffee and cooking oil varieties to the test.  Stain Devils are easy to use and you just need a little on the stain.  I like that the bottle is designed to dispense by drops, so that you are not applying more than you need.  Since this is not a pre-wash treatment, you will need to apply directly to the stain.  And, sorry Moms, but this will not remove permanent marker.
Carbona Stain Devils can be purchased online at Carbona.com. A single bottle retails for around $3.99 or you can purchase the entire set of removers (9 formulations) for around $32.  To stay social, be sure to follow Carbona on Facebook and Twitter.