Disclosure:  This post is part of the Holiday of Wonder campaign sponsored by Wonder and Company and Celebration in the Oaks at New Orleans City Park.  All opinions stated are my own.
Down here is New Orleans, we do things a little bit different, and we are big on keeping traditions.  Mondays are for Red Beans and Rice, Saints game days are all about Black and Gold attire, and the Holiday Season is all about "Celebration in the Oaks"!  Since I was little, this has been one of my favorite attractions, especially since it is the only place you can find Mr. Bingle these days.
For those of you who aren't local, Celebration in the Oaks, is located in New Orleans City Park, and features thousands of lights in many different displays.  While this light festival definitely has a New Orleans feel, you don't have to be a local to love it.  This light festival is scattered throughout 25 acres of the park, so be sure to wear your walking shoes when you come to visit.
Here are a few of my family's favorite features this year:
The boys loved the Train Garden, complete with running model trains, one of which even blew steam.  They had a blast checking out all the trains and finding our favorite NOLA locations around the garden.
The boys also had a blast in the Conservatory, and were even patient enough to let me take their picture in front of the large poinsettia tree!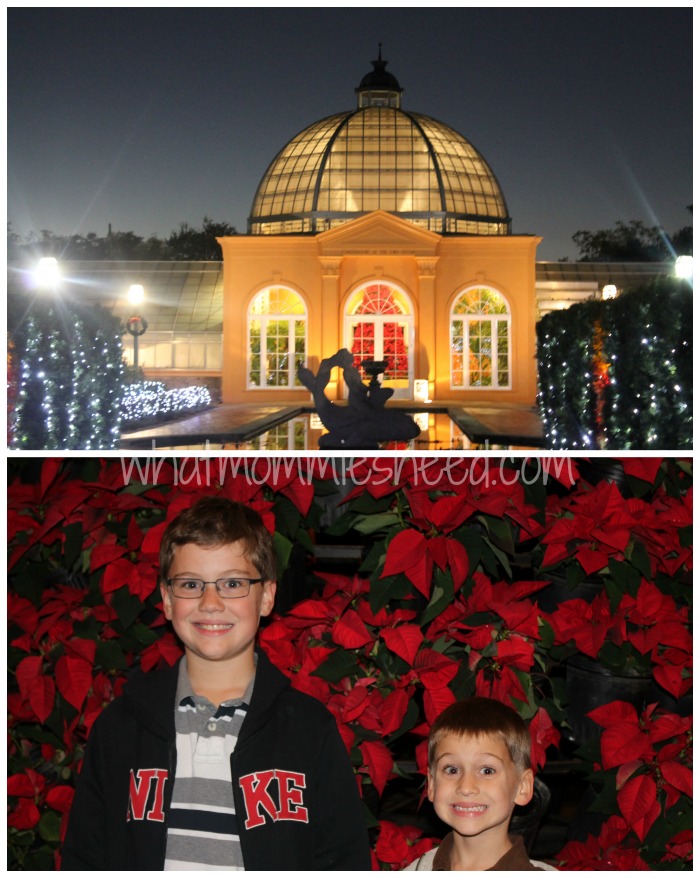 My favorite attraction is the "Dripping Snow Tree", maybe since we never really get snow, but it is just breath taking to see.
Here are few of our other favorite things:
And, if that is not enough fun to tempt you, there is more!  How about a 2 mile train ride through the park, Storyland and the Amusement Park, Photos with Santa, and nightly entertainment?  Trust me, it is well worth the visit, even if you don't have kids!  Planning a holiday trip to NOLA?  Local tip:  Try to plan your Celebration in the Oaks visit on a weeknight, to avoid the crowds.
Celebration in the Oaks is open nightly from December 5th- January 3rd (closed on 12/24 and 12/31).  Tickets are $8/person, but Children under 3 and Friends of City Park are Free.  Additional fees apply for the Train and Amusement part rides.  It is recommended that you purchase tickets in advance.  For more information, be sure to visit Celebration in the Oaks.  To stay social, be sure to follow them on Facebook, Twitter, and Instagram.