Disclosure:  I partnered with Carnival for a trip.  All opinions stated are my own.
Being on a cruise ship is a whole different world, basically you are on a floating island, where you have everything that you could need at your fingertips.  Our second cruise on the Carnival Dream allowed us to really have time to explore the ship and check out all it has to offer.
Our number one favorite thing we did was enjoy an adult only dinner at the Steakhouse.  Now, this dinner does cost an additional fee, but it was so delicious and the service was fantastic.  Also, since it is located on floor 11, you also have some stunning views.
Since my kids were a little older this trip, they enjoyed reading over the daily schedule of activities and choosing what they wanted to do.  Every night, my older one would rush us through dinner to see the family friendly comedy show.  I have to say that is became something that we all really enjoyed.  Seeing your kids giggle is priceless.
The Water Works was still the first thing my younger son chose to do everyday, which was fine with me!  I would get in my beach chair and relax while he went up and down those slides.
Last cruise, we found Pasta Bella on the last day, and wished we had found it sooner.  So, look for that dining option early on.  You can create you own pasta and it is quite tasty!
Also, we found Guy's Pig & Anchor BBQ, located on deck 5 this trip.  It is not an additional cost, but has limited time openings, so be sure to check the schedule.  Hubby really liked this dining option.
We checked out the Build-A-Bear workshop, which is not an actual store, but an event that they do.  They do have a great selection of animals to choose from and is very much like the store experience.  They even had cute little themed cookies for the kids.  The cost to attend and make a bear/animal is $30, which I thought was reasonable.
The last day at sea, the kids found out they could learn to make towel animals.  This was really fun!  They were so into it and I had a great time taking pictures of their creations.  I made have told my older son that when we returned home, I expected towels to be folded like an elephant from here on out.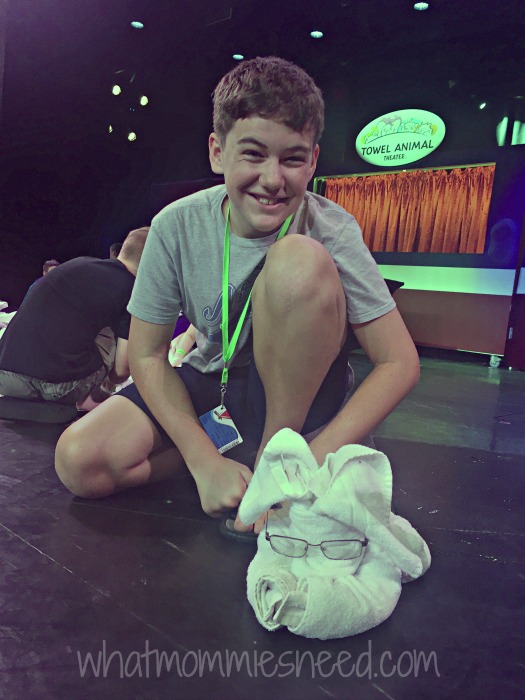 Most nights we ventured to the dining room and really enjoyed our food and service.  Our wait staff was awesome and were great with the kids.  And, my boys loved trying all the different food options.  My younger son even commented the first night "Now this is some good service"!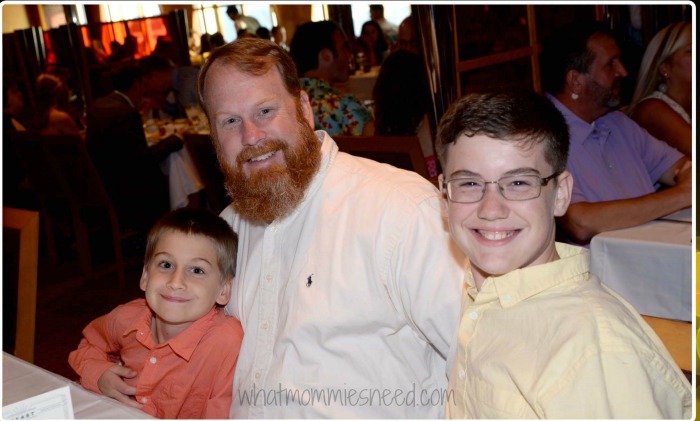 My favorite thing about cruising is it is a way to disconnect from all the outside distractions that are usually present.  Yes, they do offer wi-fi on the ship for a fee, but it is spotty.  I feel like this is a vacation where we are really focused on each other and not so much on what is happening elsewhere.
For additional information or cruising reservations, contact any travel agent, call 1-800-CARNIVAL or visit carnival.com.  To stay social with Carnival, be sure to follow them on Twitter, Facebook, and Instagram!