I am a Rayovac Power Blogger.  Compensation and product were provided to facilitate this post.  All opinions remain 100% my own.
Halloween is our favorite holiday at my house.  We love the spooky decorations, the costumes, the candy, and the fun of connecting with our neighbors as we stroll through the street.  Lucky for us we live in a safe area, and know most of our neighbors, but this does not keep us from following some basic Halloween Safety Rules.  Here is a list of what we have found to be our "Top Five Halloween Safety Tips":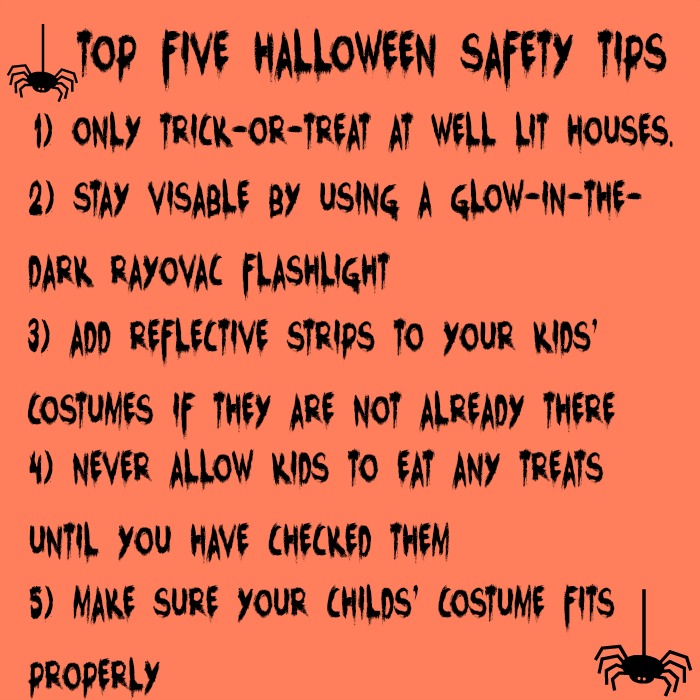 Here is Blake in his very safe and reflective Fireman Costume proudly using his Rayovac Glow-In-the-Dark Flashlight as he prepares for Halloween!
The Rayovac Glow-in-the-Dark Flashlight, retails for $4.99 and has the following features and benefits:
18 Lumens
Super bright 14 LED light
Beam Distance: 59 feet (18.5 meters)
Battery Run Time: 19 hours on Rayovac Alkaline batteries, 9 hours on Rayovac Heavy Duty batteries
Impact resistant to 3 feet (1 meter)
Glow in the dark rubber grip
Matte finish aluminum body
Available in green, pink, blue, or gray – color is chosen randomly
Lifetime warranty
(3) AAA Rayovac Heavy Duty batteries included
To help you prepare for Halloween, Rayovac is currently offering a promotion of $1 their Glow-in-the-Dark Flashlights for the month of October on their site, with the Promo Code: GLOWINTHEDARK and FREE SHIPPING on orders over $25!
To stay connected with Rayovac, be sure to follow them on Facebook and Twitter.