Have you discovered the Kellogg's Family Rewards Program, yet? Get more from the products you love with this great rewards program. Collect codes from your favorite specially marked Kellogg's products (HUGE list can be found here) and redeem them for family rewards, high value coupons and fun stuff like movie passes, restaurant vouchers and family adventures! There's even an opportunity to win free groceries from Kellogg just for entering your codes.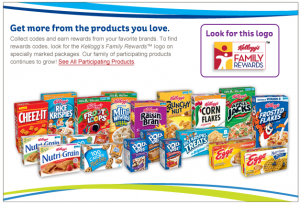 Points can be redeemed for great coupons like these:
-$1.50 off Kellogg's Cereal
-$1.50 off Keebler Cookies
-$1.50 off Kellogg's Product
-$1.50 off MorningStar Farms Product
Best of all, it's free to join and you can get started with a few of the Bonus Codes that Kellogg sends out periodically (watch your Inbox.) This one was just released:
2013KFRBONUSCODE – 50 points
These are some previous codes that are still working:
ERESUNGANADORHOY – 50 Points
KFRNOWONFACEBOOK – 20 Points
KFRDELTAENTERNOW – 50 points
KFRFAVPOPTARTS10 – 10 points
HOWITWORKS20PNTS – 20 points
KFRFREEGROCERIES – 50 points
XOXOXOXOXOXOXOXO – 25 points (My favorite one. It came out on Valentine's Day!)
You'll also find opportunities for BONUS points when you log in to your account. For example, one of mine says I can earn double points on Corn Pops cereal and/or CheezIts. I also see bonuses for Pop Tarts, Keebler cookies, Nutri-Grain bars, the new Cinnamon Cheerios. There was even a TRIPLE POINTS bonus last month!
You have to try the new Keebler Pretzel Bites! They're filled with creamy peanut butter then dipped in chocolate…and they're worth 75 Kellogg's Family Rewards points!