I love both chocolate and peanut butter, especially together!  Which is why I was so excited when offered the chance to taste DOVE's newest product line, Chocolate with Peanut Butter.  Doesn't the sound of it just make you drool a little. LOL
Here is the story behind DOVE from their site:  DOVE® was created by Greek-American founder Leo Stefanos, DOVE® Chocolate has been a rich family tradition since the 1950's. Witnessing his son racing down the street after an ice cream truck, the Chicago candy store owner developed the DOVEBAR out of concern for his children's safety. Hand-dipping ice cream in premium chocolate, Leo took months to refine the recipe, naming the new treat after his south side candy shop, a moniker chosen for its "peaceful" quality. Those first rich, creamy DOVEBAR® were an instant success, but it wasn't until Leo's son grew up and followed in his father's footsteps that DOVE® Chocolate became known from coast to coast. By the late '70s over one million DOVEBAR® were sold in a single year by street vendors to eager children and adults. The DOVEBAR® popularity soon caught the attention of another family of expert chocolatiers. M&M/Mars acquired DOVE® in 1986 as the crown jewel of their company, and refined DOVE® Chocolate's purity and taste before introducing milk and dark chocolate bars in the '90s.

DOVE was nice enough to send me a sample of their chocolate with peanut butter to review.  I thought they were really yummy and definitely the perfect afternoon treat.  The peanut butter was smooth and had a good flavor.  I really like the texture of DOVE chocolate and enjoyed indulging in a decadent snack. 
Since I would have made myself sick if I had eaten the whole bag, I decided to share them with a few friends.  They also thought the Promises were very good and that the peanut butter and chocolate were in the right ratio to compliment each other.  One friend said she would purchase these in the future.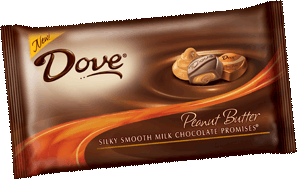 DOVE's Chocolate with Peanut Butter is available in two forms:  bite sized promises and in their singles bar.  Either of which would make a great Easter Gift for Teachers or to add to your Easter Baskets.
To make sure you receive information on all of DOVE's newest products, be sure to follow them on Twitter or become their friend on Facebook.

I WROTE THIS REVIEW WHILE PARTICIPATING IN A BLOG TOUR CAMPAIGN BY MOM CENTRAL ON BEHALF OF DOVE AND RECEIVED SAMPLES OF DOVE MILK CHOCOLATE WITH PEANUT BUTTER PRODUCTS  AND A GIFT CERTIFICATE TO FACILITATE MY REVIEW.