Nestle provided product to facilitate this review.  All opinions stated are my own.
No matter what you are doing this season, baking, gifting, stuffing stockings, decorating or just being jolly, Nestle has the perfect treats to share some sweetness!  From Pixy Stix filled candy canes to giant Nestle Crunch bars, all under $10, you are sure to find that special treat for everyone on your list.

Here are a few of the selections that are available this holiday season:
NEW WONKA Pixy Stix Filled Candy Canes – It's an unexpected surprise that only Wonka could create! A candy cane with a twist, cherry flavor hard candy on the outside and punch flavored Pixy dust on the inside! Two different flavors in one luscious candy cane. Great as stocking stuffers or for decorating the tree!
WONKA SweeTARTS, NERDS and Laffy Taffy Tins – This one-of-a-kind collection of unique and colorful tins makes the perfect gift for the person who has everything! Buy one or all three. They are strong, sturdy metal tins that can be displayed as collectible treasures or filled with candy or trinkets and used every day.
1lb Giant Nestlé Crunch Bar 

– 

Yes, this is your favorite Nestlé Crunch bar now available in a full one pound size bar! This delicious, oversized chocolate bar can be given to the chocolate lover in your life or shared with friends and family at gatherings. The bar's wrapper features a holiday bow and a "to/from" tag that can be written on to personalize the sweet treat. You can bet, your special someone will be wowed by this holiday-exclusive treat!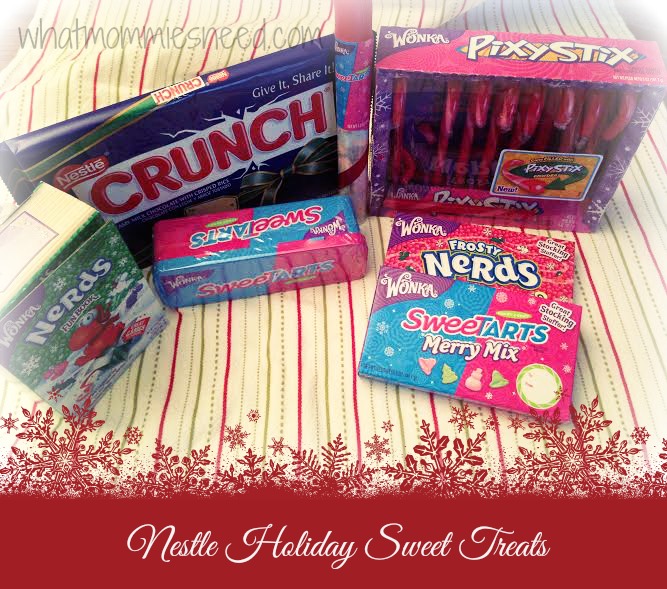 My boys have been begging to open up the pixy stix filled candy canes, so I would say those would be great stocking stuffers, but I do plan to hang a few from my tree.  And, I always add candy to all those gift card and cash presents that the big kids ask for, since I love having something to put with those things.  I am planning on making sugar cookies with nerds mixed in for the boys this year, which I think will be a hit!
If you are looking for some fun holiday recipes, check out these fun ideas from Nestle, for Chocolate Dipped WONKA Pixy Stix, Cookie Ornament Cup or a Very Merry Cookie Wreath! For more holiday recipe ideas, you can visit the Nestle site Meals, or follow them on Facebook and Twitter.
Have a Sweet Holiday Season!