These S'mores Brownie Bites feature a graham cracker bottom and is topped with a Peepster for a Marshmallow Creme touch.  They came out super yummy and the whole family loved them!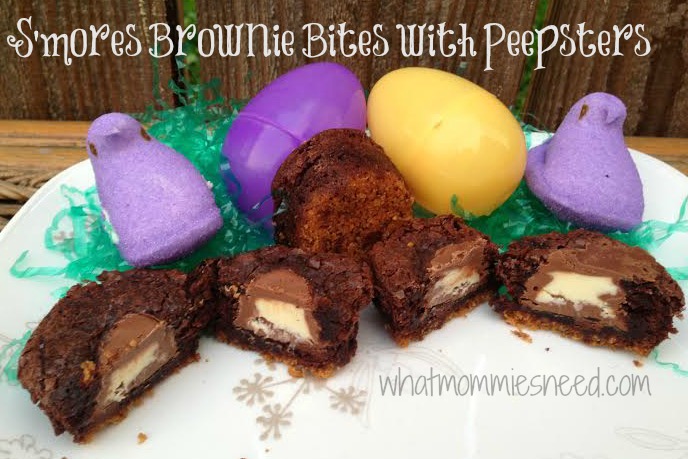 Here are the logistics:
Makes 24 brownie bites
Prep Time: 15 minutes
Cook Time: 25 minutes
Total Time: 40 minutes
Ingredients:
1 box Brownie Mix (20 oz)
1/3 cup Water
8 tablespoons Butter (melted)
1 egg (large)
1 teaspoon Vanilla Extract
1 packet Graham Crackers (finely chopped)
1 bag Peeps Peepsters (unwrapped)
Directions:
Step 1:  Preheat oven to 350F and lightly spray mini-muffin pan with PAM.
Step 2: Mix ground graham crackers with 3 tablespoons of melted butter.
Step 3: Line the bottom of muffin pan with graham cracker mixture and press mixture down into cups.
Step 4: Bake in oven for around 8 minutes or until golden.
Step 5: While graham cracker crust is baking, combine brownie mix, water, remaining melted butter, egg, and vanilla in a bowl.
Step 6: Once graham cracker crust is golden, scoop brownie batter on top of crust, leaving some room at the top.
Step 7: Bake for 6 minutes at 350F.
Step 8: Remove from oven and place unwrapped Peepsters in the middle of the brownies, pressing down slightly.
Step 9: Return to oven and bake for another 7 minutes.
Step 10: Remove from the oven and let cool for 10 minutes. Then use a butter knife around the edges and gently remove the brownies from the pan.  Place brownies on a wire rack to finish cooling.