They're back!! The lean, green fighting reptiles, AKA the Teenage Mutant Ninja Turtles!  Nickelodeon sent my boys over a copy of the Turtles newest DVD, Teenage Mutant Ninja Turtles: Enter Shredder
!  This DVD takes the Turtles on non-stop battles against Kraang-droids, mechanical Mousers, a mutant alligator and even the evil Shredder himself.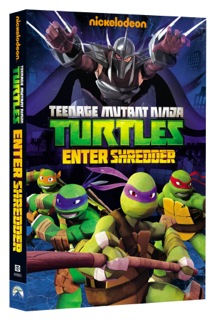 Here is a list of episodes and their synopsis, which are included on this DVD:
Monkey Brains-  Donnie and April investigate a scientist's disappearance, but discover a conspiracy regarding a bizarre psychic monkey instead.
Never Say Xever– Leo fears his act of mercy has come back to haunt him when Xever holds a local noodle shop owner hostage.
The Gauntlet-  After April receives a warning from her imprisoned father, she and the Turtles embark on a mission to save him and stop the Kraang from detonating a mutagen bomb in the city.
Mojo Rising – Panic in the Sewers-  The Turtles must defend their home in the sewers when Bradford tries to destroy it with a dangerous chemical.
Mouserthon – Mousers Attack!-  Multiple threats force the Turtles to split into two groups. Donnie and Mikey must prove that their "B Team" is just as valuable as Leo and Raph's "A Team."
Leatherhead – It Came From The Depths-  Michelangelo befriends an unstable mutant alligator that possesses a strange piece of Kraang technology.  Can he be trusted?
New Girl in Town-  Tired of Raph's constant criticism, Leo lets his brother try his hand at leadership. Meanwhile, Leo meets a beautiful but dangerous female ninja.
I think hubby and I enjoy this show more than the boys, which has much better graphics than the TMNT that we used to watch.  Blake is a little young to get all the concepts and Wyatt is just a little old for the show.  Overall, I think they have done a great job on this updated series and love that the Turtles are back!
Teenage Mutant Ninja Turtles: Enter Shredder
has a running time of approximately 178 minutes and includes the Special Features:  Animated Comic Books-  Tales from the Turtle Lair, Part One and Tales from the Turtle Lair, Part Two;  and The Mutation of a Scene: "New Girl in Town".  For a limited time only, you can find a collectable TMNT Poster inside your DVD!  This DVD retails for $14.99 and is available for purchase now from amazon.com
.
Alright Turtle fans, now for the exciting part!  Nickelodeon is offering one lucky reader a chance to win a copy of TMNT: Enter Shredder on DVD!  For your chance to win, just follow the Rafflecopter rules below.