Disclosure:  Dyson provided product to facilitate this review.  All opinions stated are my own.
I would like to introduce you all to AnnaBeth: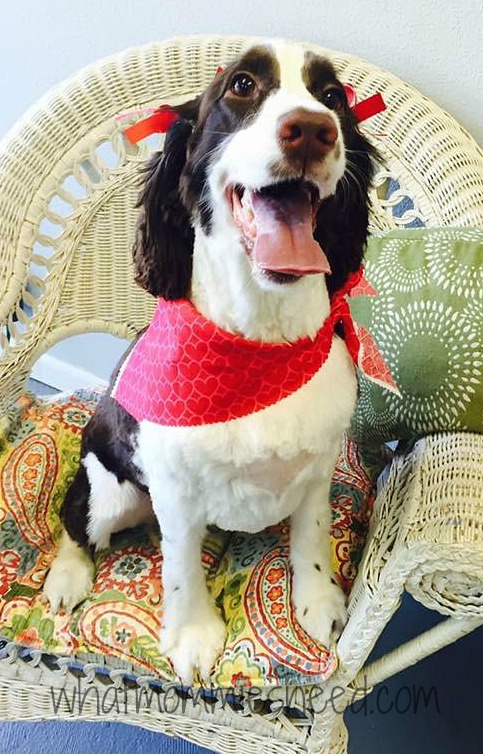 I know, she is absolutely adorable and has the best personality to match.  Want to know what else she has….tons of hair!!!  This sweetie sheds like I have never seen and we are constantly vacuuming in our house to keep up with her.  It doesn't help that we also have a cat that like to leave balls of hair lying around.
Recently we received the Dyson Ball Animal 2 to try and I knew if anyone could put this vacuum to the test, it was us!  The box arrived in great condition and the vacuum was easy to assemble with only 4 or 5 steps, which I did all on my own and in under 15 minutes.
My first thought was that the Dyson seemed heavier than our current vacuum, and weighing in at 17.35 lbs, it does weigh more.  That being said, my 8 year old is still able to carry it up the stairs and has no trouble using it.  Once we had it all set up, we decided to see what it could do.  I have to say that the Dyson does a fantastic job of picking up hair and dirt off of all surfaces.
Here is a list of my pros and cons about this vacuum:

Over all, the performance of the Dyson Ball Animal 2 far outweighs the cons in my book.  I am looking for a vacuum that will pick up everything on the first pass and this cleaner definitely does that.  I have decided I will consider the weight and self propelled cons as a workout and call it a win/win for this vacuum!
Here are some technical specs about the Dyson for you:
Radial Root Cyclone™ technology: Designed to maximize power. A mesh shroud helps separate large debris, with inner cyclones generating powerful centrifugal forces.  Every angle of each airway is honed to ensure microscopic particles like pollen and mold are separated from the airflow.
Testing: Dyson upright vacuums are subjected to 550 tests over 50,000 hours. During development a Dyson vacuum will be dropped onto a hard floor 5,318 times. It will run 847 miles on a turntable rig; nearly the equivalent of a trip from Chicago to New York City.
Patents: There are currently 304 patents and 481 pending patent applications worldwide relating to technology used in the Dyson Ball™ range of vacuum cleaners.
Maneuverability: In addition to the motor and filter, ducting, valves and the stand have been engineered into the ball, making it even easier to turn the tightest of corners.
Hygienic bin emptying: Just push the button to release the dirt directly into the bin.
Warranty: The machine comes with a 5 year parts and labor warranty.
The Dyson Ball Animal 2 retails for $499.99 and is available for purchase online at Dyson.com.   For more information or to stay social, be sure to visit Dyson and follow them on Facebook and Twitter.