While my little ones can't be considered babies anymore (3 isn't a baby right?), I continue to use baby products, due to their sensitive skin.  Wyatt is prone to eczema outbreaks and Blake struggles with dry skin.  This is why I always make sure to use products that are geared specifically for these issues.  I was recently informed about the release of four new Baby Magic products, two of which are perfect for my boys!

Here is some information about Baby Magic and their new products:  Baby Magic is a part of Naterra International, Inc., who has been making exceptional quality beauty and skin care products that emphasize the true beauty of life, since 1923.  Naterra International, Inc. is a leading United States manufacturer and marketer of beauty, baby care and personal care products. All Baby Magic products are hypoallergenic, Paraben-free, Gluten free and produced in the United States, giving moms and dads the peace of mind to focus on the magical moments that happen every day.
The four new products expand the Baby Magic line of treatment and bath items to include:
No-Rinse Wash– This wash, perfect for cleansing on-the-go, is specially formulated for baby's sensitive skin and the self-foaming application allows for cleaning baby's hair or skin without using water. Now you can keep your baby clean even when you are away from home.
Kids Magic Bubble Bath– Tear-free, hypoallergenic and available in either Calming Lavender or Bubble Gum Pop.
Healing Balm – for Eczema- Enriched with vitamins, aloe, oatmeal and Shea Butter to help with minor skin irritation and itching due to eczema which currently affects one in four children. The balm features an easy stick application to target problem areas on the hands, face and body.
Medicated Patty Cake– The patented Baby Magic Patty Cake cream-to-powder baby powder now comes in a medicated formula for children with extra sensitive skin. Unlike the original, this Patty Cake is a unique, non-greasy cream-to-powder formula for diaper rash treatment. This effective treatment leaves the baby's skin smooth and dry, while still being safe for everyday use.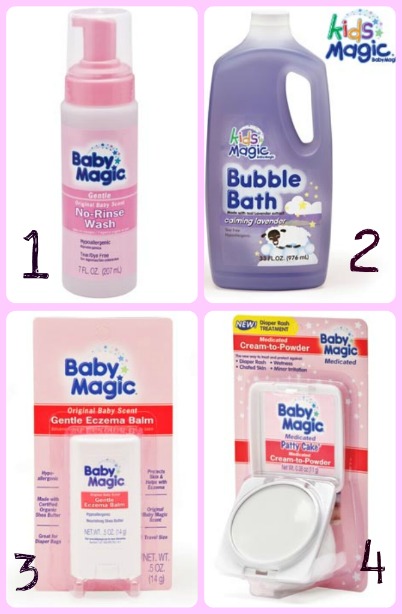 Baby Magic was nice enough to send me samples of their new product line to review.  The boys were thrilled when they saw the huge jug of bubble bath arrive and Blake said he was ready to take his bath and started to strip!  I love that there is a gentle scent to the bubble bath while it still remains hypo-allergenic.  Blake smells awesome after his bubble bath and has a great time playing with the bubbles!  Wyatt mostly takes showers now, but with the weather changing, his eczema has already begun.  Baby Magic's new Eczema Balm is super easy to apply, Wyatt can even do it himself without making a mess, and coats nicely.  I am hoping that this keeps his outbreaks this season down to a minimum.
Baby Magic's new products range in price from $3.99 to $6.99 and are available nationally at Toys "R" Us, Babies "R" Us and other retailers that can be found at www.BabyMagic.com.   Make sure you are the first to learn about all of Baby Magic's new products, by following them on Twitter or becoming their fan on Facebook.