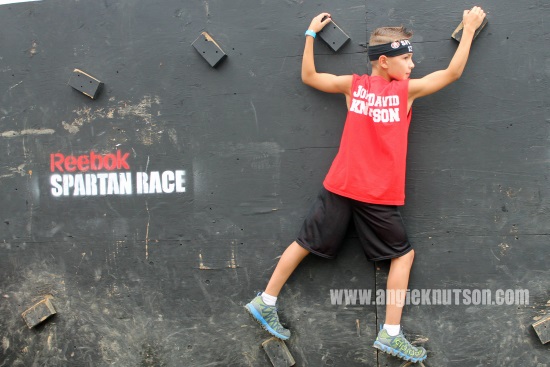 Spartan Media provided compensation to facilitate this post. All opinions stated are my own.
It's me again, Angie from www.AngieKnutson.com, and as promised, I am back to tell you all about our family's Spartan Race experience! We all attended our first ever Spartan race event this past Saturday, July 26th, and in so many ways it was more than we ever imagined. Our day started early with a 2 hour drive up to Maryland (right outside Washington, D.C.). Having been a spectator at a similar event before where my husband participated, I knew we were in a for a long but exciting day.
The kids were all pumped, anticipating running in their first Spartan Kids race, and my husband had his game face on before we ever left the house! I could tell as soon as we arrived that the atmosphere would not disappoint. The family friendly event was extremely organized and run by friendly staff and volunteers.
From the numerous shuttles to and from the parking location to the organized and speedy check-in process, our Spartan experience got off to a great start. Soon we were pinning on bib numbers and getting ready for the Spartan Kids race! There were people (spectators and racers) EVERYWHERE! My husband told me later that there were over 5,000 adult racers that day.
The kiddos raced first, and their heat started right at noon. John David, our nine year old, thought it was pretty cool when they marked him with his number. :)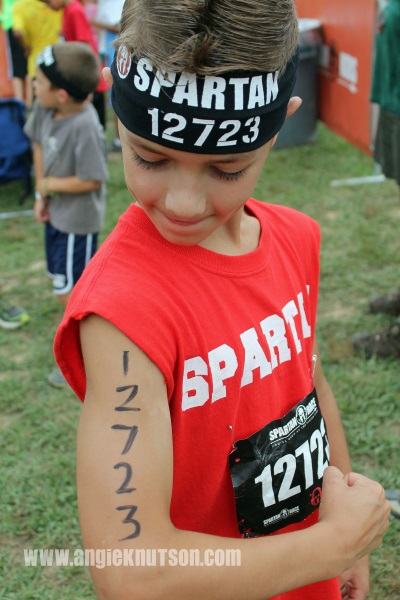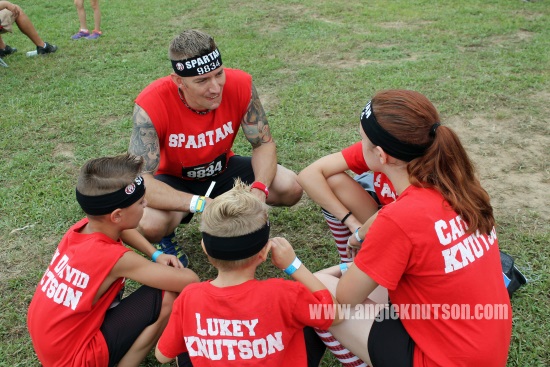 My husband gathered the kiddos for a quick pep talk and then off they went to start stretching and warming up. We were a tiny bit disappointed that the junior event (1/2 mile course compared to the 1 mile Spartan Kids event) was a little less than what we were anticipating. Basically the little kids ran the same course as the older kiddos, and just stopped half way through. Which was fine except the halfway point wasn't marked at all, and no one really explained that to the little ones, as the children all started at the same time. But no worries, Luke decided to tough it out, and in his first Spartan Kids race, finished the entire 1 mile course with his older siblings!
The course consisted of mud pits, mud crawls, walls to climb over, under, and through, cargo net climbs, and more! It was such a rush watching them leap and run through the course with huge smiles on their faces.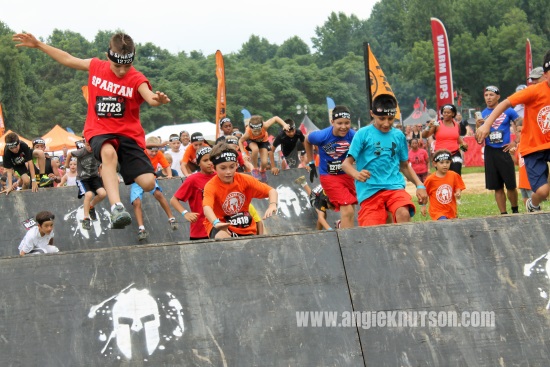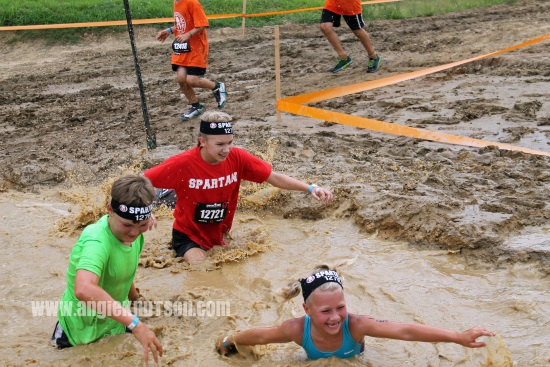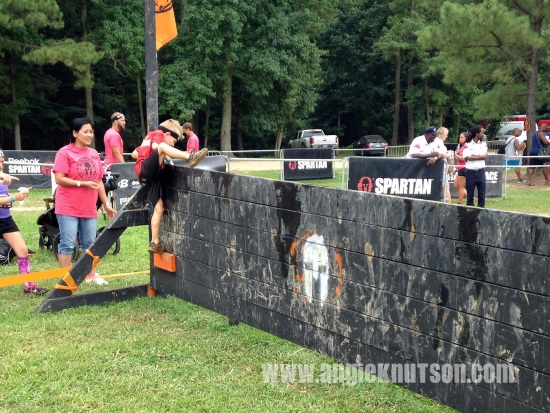 Our kids usually get along pretty well, but it was really neat to watch them cheer each other on during the race. After the older kids finished, they ran back to cheer their little brother on, and he loved it! Charging through each obstacle with a smile, even when he got mud in his face. Believe me. That's a pretty big deal for this little boy who hates getting his face and hands dirty! LOL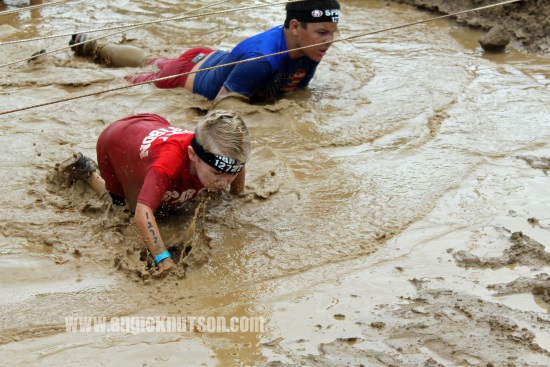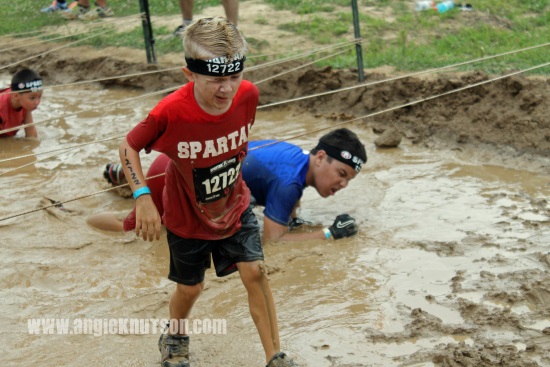 I can't even look through all the pictures we took that day without getting teary-eyed. It wasn't just a race. It was a family and sibling bonding experience. They proved to each other and themselves that they were strong and confident and that they could tackle challenges with courage.
They've worn their headbands and medals on and off since the race. They were pretty proud and so were my husband and I! After a quick hose down and clothing change for the kids, it was Daddy's turn. We made our way over to the adult start line and waited patiently as the time approached. This event was a Spartan Sprint, a 4-6 mile race with 18 obstacles.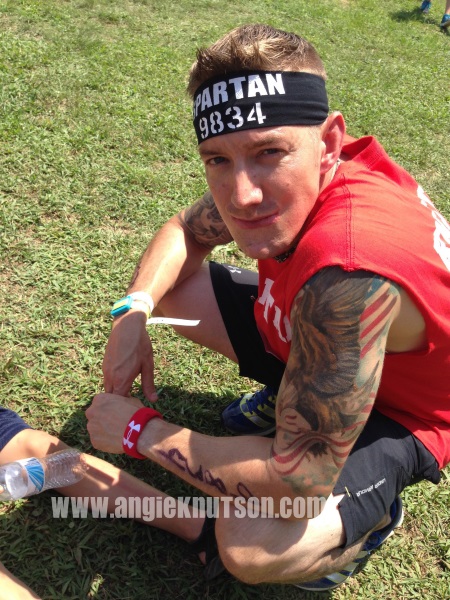 My husband, Jeremy, has raced obstacle races before and he thought he knew what he was in for. Truth be told, after the race, he said this was his favorite event so far. The mud was thicker and deeper. The obstacles were tougher. The thrill of finishing even better than he remembered. He videoed the entire race (in three segments), and you can check out all three videos on his YouTube channel here, but here's the first part to give you an idea of what the start of the race looks like.
Needless to say, he was pretty tired when he finished, but his smile couldn't have been any bigger! He crawled through mud, threw spears, and even leaped over fire. As a family of spectators, we wished we could have seen more of the obstacles to cheer him on. We were able to see a few, but there weren't any spectator trails to follow. Not quite as spectator friendly as I was hoping, but we still captured some great pictures.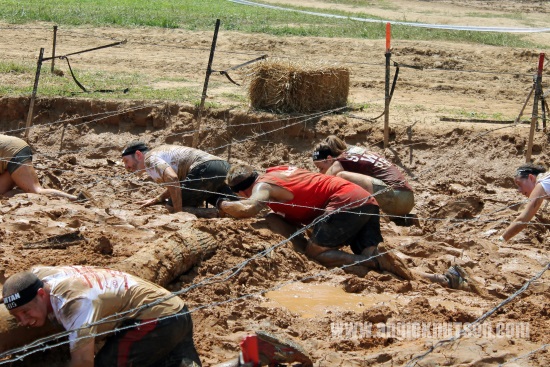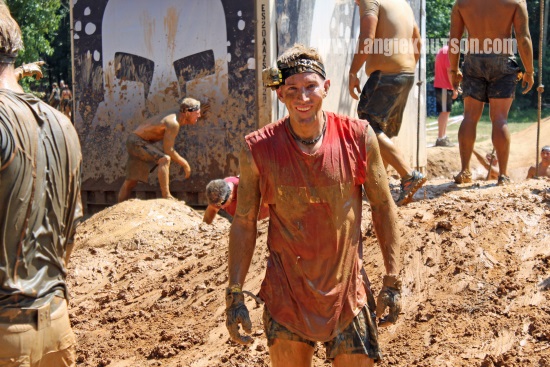 We were stoked later that night when the times were posted on the Spartan website and we discovered Jeremy had completed the race with a time in the top 7% of racers that day! Way to go, Dad!
After the races, we hung around for a little while enjoying the Spartan Festival space which is where you spend most of the day waiting for your heat to begin and enjoying the Spartan family spirit. There's a few obstacles you can warm up on, and even fun mini competitions throughout the day like a pull-up contest. John David decided to show the grown-ups how it's done. :)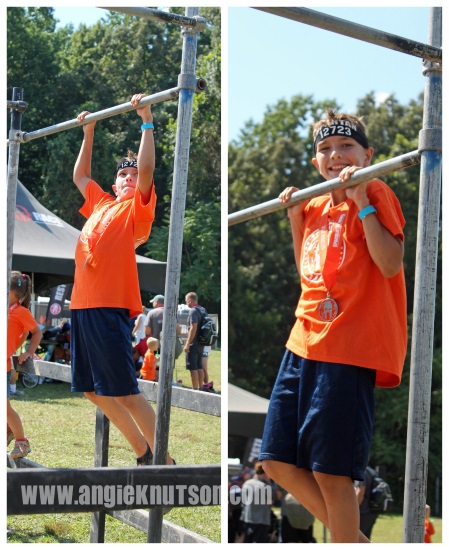 At the end of the day, we had a very happy and tired crew. And we made some amazing memories that day! The kids and Jeremy couldn't wait to place their medals on our race wall at home for everyone to see.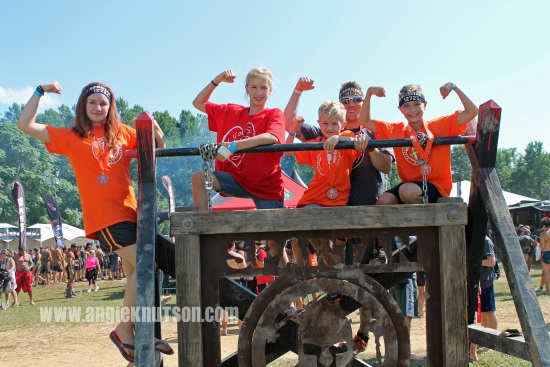 Next up for us is the Virginia Spartan Super, a more difficult race for my husband, but one we are all very looking forward to. With a Sprint under his belt, and a Super on the calendar, we have also decided to make plans to attend a Beast event in Vermont in September to complete Jeremy's Spartan Trifecta!
If you are already part of the Spartan family or would like to find out more about this event, find a race near you, and don't forget to check into the Ohio Trifecta on October 4th where you can race a Sprint, Super, and/or Beast at the same event! Be sure to take advantage of the 10% off code.
#SPARTANUP using code SPARTANBLOGGER good for 10% off any race registration!
Now for the list I promised! As a spectator, family cheerleader, team organizer, etc., I have been to several events such as this, and have learned a lesson or two. Here's my top 5 items that I pack for every Spartan race event:
Sunscreen – Even if it's overcast like it was for us on Saturday, you will definitely want to pack the sunscreen. Chances are that you and your crew will be out in the sun for hours on end. Make sure you bring plenty and reapply as needed.
Trash bags – I learned this lesson wit the very first obstacle race event we attended. After the race, your team members' clothing will be wet and muddy, and well… it will most likely stick to high heaven. Bring a trash bag to put those filthy clothes in. Even if you put them in a back pack after they change, put them in a plastic bag first. It will help make cleanup so much easier later.
Camping Chair – I always take a campaign chair along with me. While it can be a pain to carry at times, you'll be so glad you have it after hours of standing around in the sun waiting for your racers to start and finish their heats. Just make sure to take one that folds up easily and has a carrying bag to make it easier to tote around.
Sunglass and/or a hat with a visor – Again, after being out in the sun all day, no one wants a head ache from squinting at the sun. Arm your eyes with protection. you'll be thankful at the end of the day that you did.
Call Me Cuffs – These are a must have for parents taking children to these types of events. There are large crowds of people everywhere, and let's be honest… in case your child gets lost or walks away from you while you're standing waiting (this may or may not have happened to us before), be sure they are armed with your information and an easy way to contact you. I like Call Me Cuffs because they are inexpensive and very durable, but use what works for you. Just make sure your child knows who to talk to if they do find themselves lost, and what information to give them.
I'll be back in a couple weeks to share some of our training tips and tricks as we prepare for our next Spartan Race on August 23rd. Hope to see you #SPARTANUP at an event soon!