Our first stop on our Carnival Dream Cruise was in Montego Bay, Jamaica, or as we learned from the locals "MoBay".  Choosing an excursion for a family of four can be a bit challenging with the age ranges and differing ideas of fun.  So, after scrolling through all the possible options, we decided to check out Dunn's River Falls and then have a quick stop at Dolphin Cove.
Here is a description of the excursion from Carnival's website:   Visit Dunn's River Falls and have the opportunity to climb this 600-foot waterfall.  Be transported to Dolphin Cove, a beautiful private setting.  Meet some of nature's finest creatures such as dolphins, sharks, fascinating snakes and exotic birds.  Enjoy the lush tropical jungle and beautiful beach with all the amenities.  Have a wonderful Jamaican style buffet lunch served from the Dolphin Cove Grill.
The reviews are mixed on this excursion, but I have to say that this was our favorite excursion this trip!!  We lucked out with an early departure time, so we hit the Falls before they got super crowded.  The kids loved Dolphin Cove and there was plenty to do, even if you don't choose to swim with the dolphins, sting rays, or sharks.  And, we had fantastic tour guides for the entire trip!
You will get super wet at the Falls and the water is cold, but it sure beats the heat!  Be sure to bring plenty of sunscreen, non-slip closed toe water shoes, and a change of clothes.  They do offer video of your trek up the Falls for $40, which we did purchase.  While the video is not high quality, it is fun to have this on film and they did have a few still shots of us as well, so it was worth it for us.  The bus ride is around two hours, since the Falls are located in Ocho Rios on the other side of the island, but the bus was air conditioned and our tour guide shared plenty of local culture with us on the way to the Falls, so the trip did not seem as long.  Be warned they do drive a little crazy in Jamaica, but we made it back in one piece.  On the way back to the boat, most of us were sleeping, because we were exhausted!  They did stop at a little shopping are for us to purchase souvenirs.
Dolphin Cove sits on a beach and was a beautiful setting.  We opted out of a swim, but since our time there was limited, we still had plenty to do.  The boys loved the water slide and went down it at least 5 times each!  Then we ventured through their animal area where the kids got to interact with snakes, iguana, macaws, love birds and more.  I really think this was their favorite part of the day!  Blake was convinced he was bringing home the iguana, until I explained a little thing called Customs!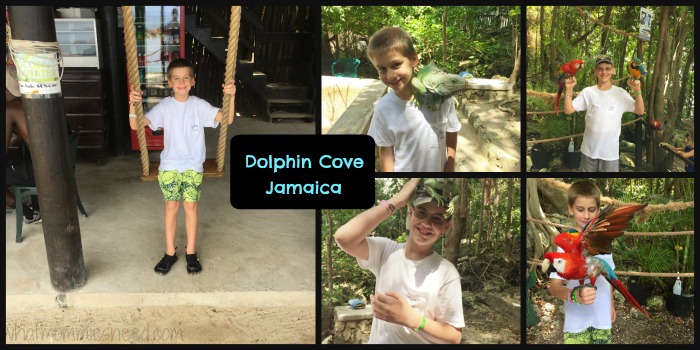 Since this was a full day adventure, which included lunch, I felt that it was worth the price.  This excursion will run you:  $99.99 for Adult (ages 13 and over) and  $89.99  for a Child (ages 4 – 12).   You can learn more about this excursion here: Carnival Dunns River Falls and Dolphin Cove Excursion

For additional information or cruising reservations, contact any travel agent, call 1-800-CARNIVAL or visit carnival.com.  To stay social with Carnival, be sure to follow them on Twitter, Facebook, and Instagram!