Disclosure: Pure Biology provided product to facilitate this post.  All opinions stated are my own.
Since passing into another decade a few years ago, I have been noticing that my skin is not what it used to be.  And, while I am okay with the laugh lines, I am totally not okay with the age spots!  Seriously, age spots!  Next month, I will turn another year older and I know that my body will continue to have some fun surprises.  This is why I was happy to give Pure Biology's Skincare Line a try, since they are one of Amazon's best-selling anti-aging lines!
Pure Biology utilizes formulas that combine tried and true base ingredient decks with some of the industry's most cutting edge, clinically proven complexes.  Founded in 2016, this line of high-end beauty products are all made right here in the USA, with predominantly natural ingredients. All of their products are cruelty-free, non-GMO and exclude parabens.  Offering superior anti-aging results, the collection is comprised of nine products, which include:
Total Eye – a complete anti-aging eye cream with instant lifting complex
Wonder Firm – a neck firming and lifting cream
Enhanced Night – an anti-aging night cream
Retinol Plus – a complete anti-aging daily moisturizer
C Plus Vitamin C Serum – an anti-aging serum
Advance Pure – a brightening and correction clay facial mask
Enhanced Lash – a lash and brow enhancing serum
RevivaHair Shampoo – an anti hair loss and growth stimulating shampoo
RevivaHair Conditioner – an anti hair loss and growth stimulating conditioner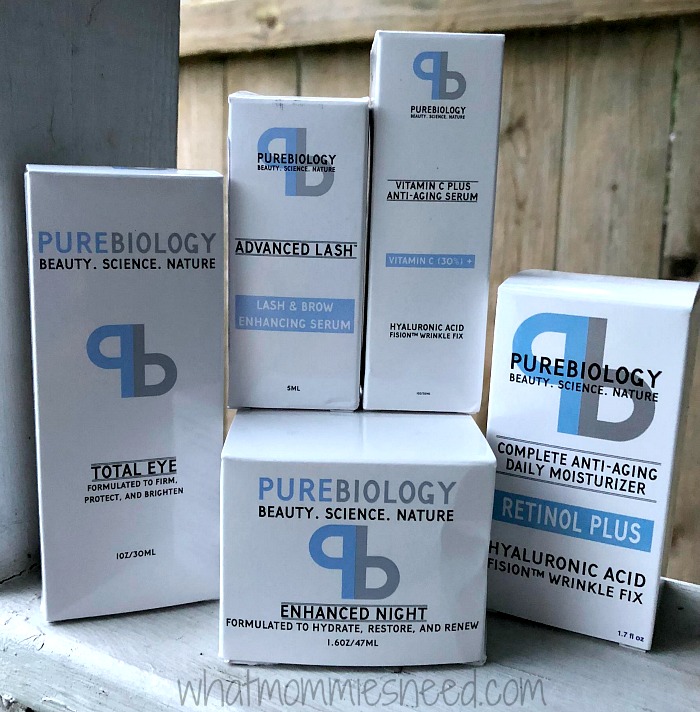 I have spent the last couple of weeks giving these products a go, and here is what I can tell you.  I like the Enhanced Night cream.  It is thick, but not greasy and goes on nicely, without a perfume smell.  The Total Eye is in a pump, which makes it easy to just get out a little, which is all you need.  I do feel like it does brighten, which I really like, especially during allergy season.  The Advanced Lash product is not as easy to apply as I would like, since you brush it on and it does not apply like mascara, but I am getting the hang of it.  Overall, for the price, I think this is a good product line.
Pure Biology can be purchased exclusively at Amazon.com and products range from $20-$30.