My husband is a total Star Wars fanatic!  And, it is easily my go to gifts for him for every occasion.  I have bought prints, helmets, trading cards and much more.  This year, I had him sit down and make me a list, so that I know what to get and can share some insight with all my mom friends!  So, without further ado, here you go: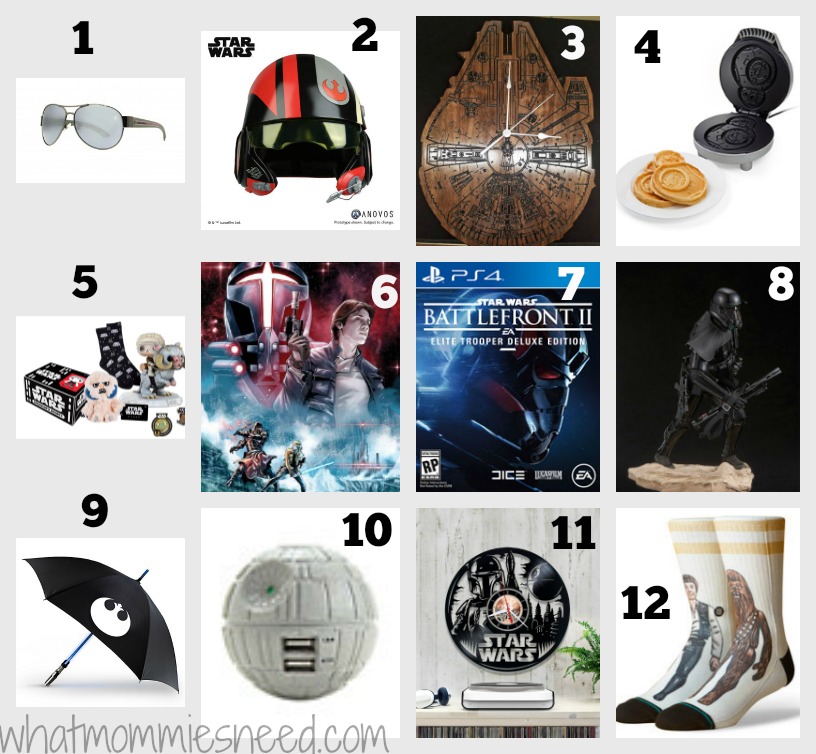 1. Star Wars Themed Sunglasses from Foster Grant – These even come in really cool box sets.  Prices are around $20.
2.
Star Wars Helmets from Anovos 
– Replica helmets just like you see in the movies.  Prices vary, but the one shown below is $550.  I have purchased a helmet from them before and my husband was pleased.
4. BB-8 Waffle Maker from Think Geek – Because we all know waffles taste better when they look like BB-8.  Retails for $17.99.
5.
Smugglers Bounty
–  Box subscription for monthly deliveries of all things galactic, including Pops, Tees, Mugs, Pins and more.  Prices are $25/month or $150/year.
7. Pre-order Star Wars Battlefront II (PS4 / X BOX 1) – Second installment of this game, which has been played for many hours in my house by all my boys.  Price is $79.99.
9. Light Up Lightsaber Umbrella from Disney Store.com – Luke Skywalker Lightsaber Umbrella which lights up in the distinctive blue glow of the Jedi weapon. The canopy features the Rebel Alliance's crest so you can team up to battle the Forces of nature. Price is $64.95.
11.
Star Wars Vinyl Clock from Etsy
– Apparently clocks are big thing in the Empire.  These clocks are made from old vinyl records and there are multiple styles to choose from.  Price $23.
Save
Save
Save