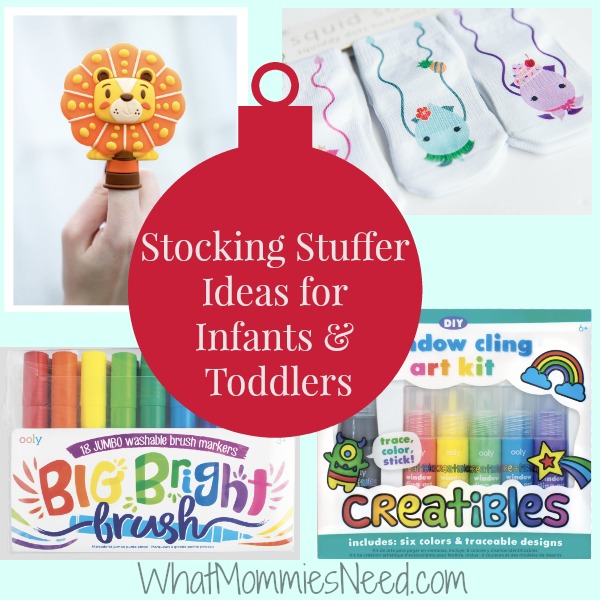 Are you a newer parent and struggling with ideas on what to put in your infant or toddler's stocking this Holiday Season?  I have made the shopping easier for you with an easy to shop from list with prices and direct buy links.
Chomp-n-Chew Teethers ($13.99) – purchase here:

 https://www.chompnchews.com/shop/

These teethers are designed to fit on your finger!

The Chomp 'N Chew's teether provides a textured surfaces for your baby to bite and teethe on during teething periods.

The teether is designed with raised offset surfaces that assist in the eruption of teeth by gently massaging the infants gums.

Comes in 3 designs: Lion, Elephant and Butterfly

Squid Socks ($24/3-pack) – purchase here: https://squidsocks.ink/

These infant and toddler socks are as adorable as they are practical!

Silicone "squiddy dots" on the inside cuff hold baby socks on!

 

10% of profits go to ocean preservation, specifically the Coral Reef Alliance.   

Squid Socks is a small family business based out of Seattle  

Want to see these socks in action, be sure to check out the video on their site.

OOLY Big Bright Brush Markers ($14.99) – purchase here: https://www.ooly.com/products/big-bright-brush-markers-set-of-18

The jumbo size of these fun filled markers make them great for little hands to use. These bright 18 color markers each have a soft brush tip, letting creative hands make thin and thick lines in every color of the rainbow and because they are washable off most fabrics/clothes, they are the perfect markers to give to little ones as young as three!

18 colors – a bright rainbow selection

Soft brush tip – draw thick or thin lines

Jumbo sized – great for little hands

Quick drying – makes for great, no-mess, creative fun

Washable ink

Suitable for Ages 3 and up

OOLY Window Cling Art ($14.99) – purchase here: 

https://www.ooly.com/products/creatibles-diy-window-cling-art-kit

Run out of wall space? Add some happy color to your windows with the Creatibles Window Cling Art Kit and use the light of the sun to brighten up your room and your world. With five colors and 14 designs to choose from, the sky is no longer the limit because the sky is now your canvas!

Drawing and painting no longer has to happen on paper and card. You can now use your windows to bring colorful rays of light into your home. The Creatables DIY Window Cling Kit is perfect for a day of arts and crafts and is also great to decorate a room for a party. You can get started right away with the 14 included designs. Follow the included instructions to trace the designs using the black outliner paint, add color, leave for 24 hours and then you're ready to stick them to your windows. You can also create your own designs using the blank reusable films for even more creative fun.

Suitable for ages 6 and up
Check out the video below to learn more about these great products.