Disclosure: Jabra provided product to facilitate this post.  All opinions stated are my own.
This past summer, I made the mistake of taking an international flight without a pair of noise canceling headphones. Needless to say, that is a mistake that I will not be making again. I know that noise canceling headphones are an investment and you want to make sure you are getting the most for your money. Since I am a fan of Jabra products, I was more than willing to put their Elite 85h Headphones to the test. These headphones are wireless, Bluetooth capable, and noise canceling all in one. Keep reading to find out the Five Reasons I think they are a must buy!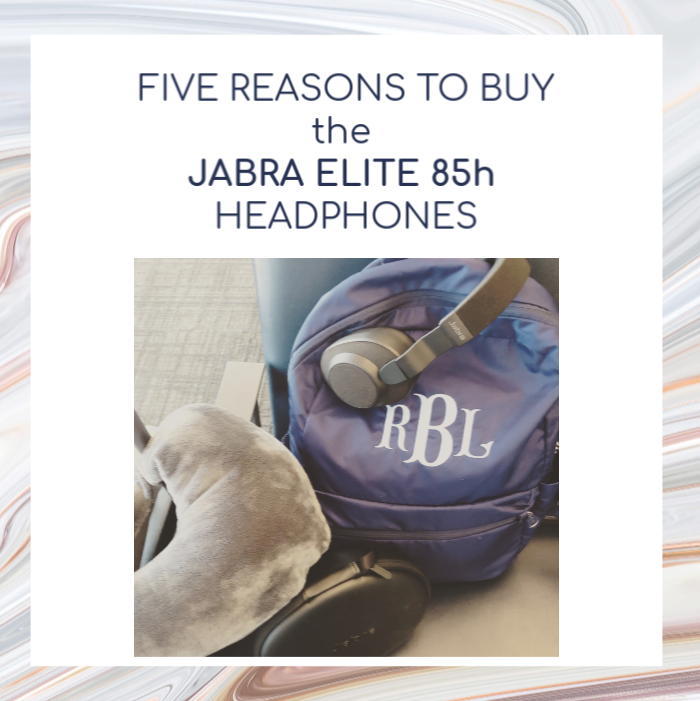 Noise Canceling Capabilities: Let's face it, you want to hear what your music, book, or TV show, not the people around you. On my last flight, when I put these headphones to the test, I had no problem listening to what I was playing. You can hear some muffled sounds, but overall, I was really impressed, and that was with a screaming toddler in the seat behind me.
Ease of Use: As with all Jabra products, these headphones are easy to pair with my devices and don't overwhelm me with buttons and features that I won't ever use. I love that they tell me my battery level every time I turn them on. And, they turn on and shut off by just swiveling the ears.
Sound Quality: I am a music girl, I love all types of music and have it going constantly. These headphones deliver on sound for me and it is because they let you customize your music settings.
Comfort: This is a biggie for me! I have trouble with earbuds, because they start to hurt after wearing them for long stretches. These headphones definitely deliver on comfort and I wore them for 2.5 hours straight and wasn't in any rush to remove them.
Product Quality: Being a longtime Jabra user, I am always happy with the quality of product they deliver. Their products stand the test of time and I have never had one break on me. The Elite 85h is engineered to withstand the elements. Nano-coating of the internal components, combined with a 2-year warranty against water and dust.
Now that I told you all the features that I love, here are some general product details. These headphones come in five color options. They are also equipped with Smart Active Noise Cancellation (ANC) responds to your environment, switching itself on if it detects unwanted background noise, according to the preferences you set within the Jabra Sound+ app. The headphones contain 8 microphones, 4 of which are used by the powerful digital ANC to filter out the noise around you. And, you can get 36 hours of use from a full battery charge! These headphones also have advanced call technology and are voice assistant enabled.
I know that was a lot of information, but here is the most important part, where to buy them! Jabra Elite 85h Headphones are available for purchase from BestBuy.com. They retail for $299.99 and come with the headphones, a carrying case, an audio cable, a USB-c cable (for charging), and a flight adaptor.