Disclosure:  Quarto Group provided these books to facilitate this post.  All opinions stated are my own.
Summer is in full swing down here and the only two types of weather we are seeing are HOT and RAINY.  We can't seem to catch a break, and there are only so many times I can hear "MOM, I'm bored"!!  Since I limit their use of their electronic devices, the days have seem so looooong.  We were given a reprieve from the boredom, when a box of fun craft books arrived from Quatro Group.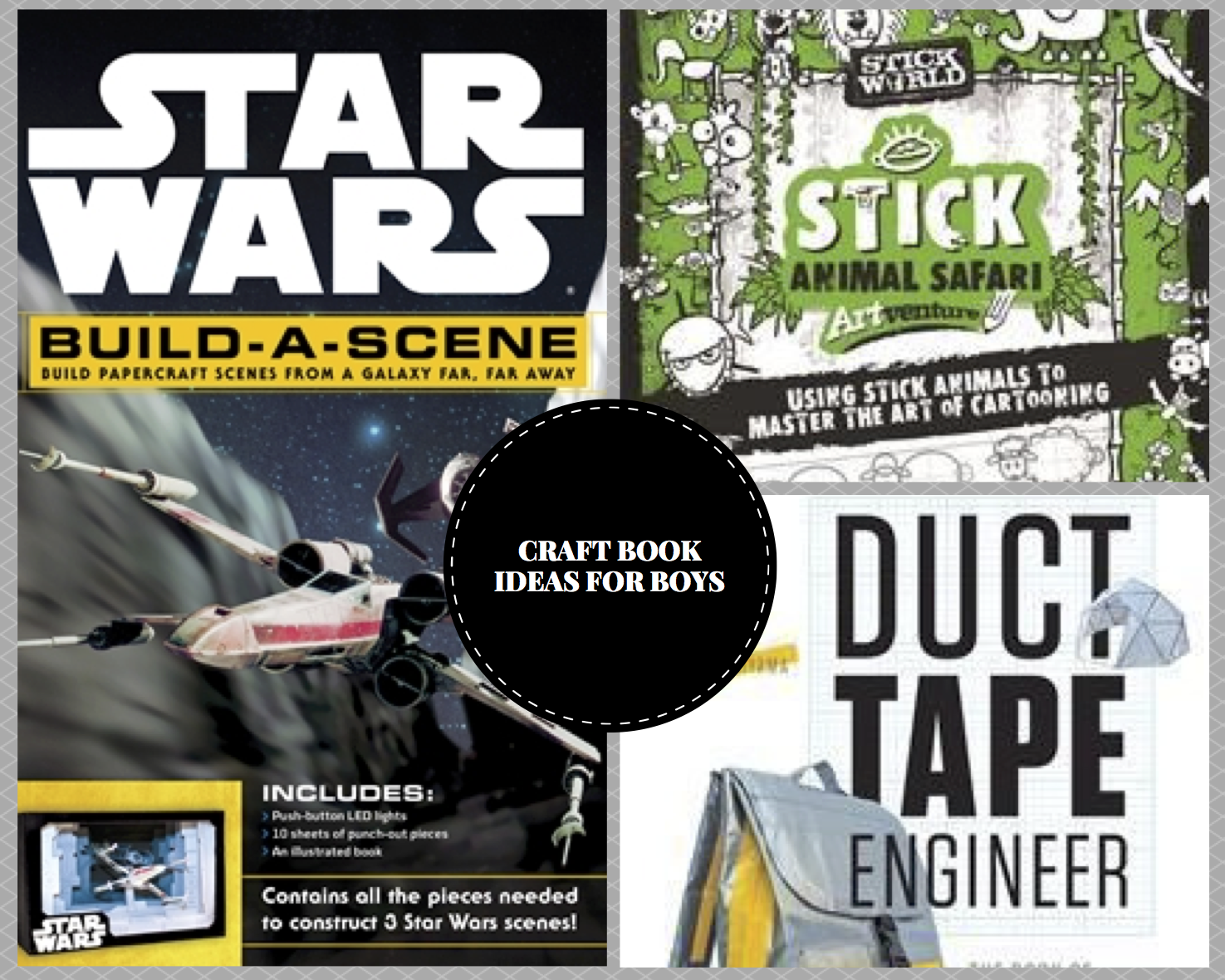 Here is a list of the titles that we received including their descriptions and price:
Star Wars: Build a Scene –  Build Papercraft Scenes from a Galaxy Far, Far Away by Benjamin Harper and Claudio Dias ($19.99 US)
Kit w/ 48 page booklet
Star Wars: Build a Scene includes everything you need to make iconic papercraft scenes from the Star Wars universe. The kit provides ten sheets of punch-out pieces and step-by-step instructions for creating three detailed 5″ x 8″ x 4″ paper dioramas, including one with LED lights.
Re-create the drama of Obi-Wan Kenobi and Darth Vader's duel on Mustafar from Revenge of the Sith; the nail-biting trench battle on the Death Star from A New Hope; and the Kylo Ren and Rey lightsaber fight in the snowy forest of the Starkiller Base from The Force Awakens. The accompanying book includes illustrated assembly instructions for the models, along with three essays on each classic scene and how they were designed and filmed.
Each model takes roughly 2–4 hours to build.
Kit w/ 48 page booklet
Recommended for kids ages 14+
Stick Sketch School: An Animal Artventure – Mastering the Art of Stick Figure Critters by Billy Attinger and Rachel Kochackis ($19.99 US)
Stick figures are hotter than ever. The biggest web comics are produced in stick figure format, and they are hugely popular in social media. But the best part about stick figures is that anyone can draw them! Billy Attinger showed how to draw stylized stick figures in his popular Stick Sketch School, and now he's back showing the world his stick figure animals. Take an "artventure" around the world: learn to draw stick animals in the jungle, the Arctic, the rainforest, the Outback, underwater, and more! You'll even learn how to draw extinct animals and fantasy animals in stick form. Each spread features a grid to show the reader how to draw the lines, how to add movement, expression, and more. Ideal for the visual learner and accompanied by tips and tricks from stick artist Billy Attinger, the book shows how to make your stick animals personal, recognizable, and unique!
Paperback, 144 pages, 200+ color illustrations
Age 10+
Duct Tape Engineer: The Book of Big, Bigger, and Epic Duct Tape Projects by Lance Akiyama ($22.99 US)
From a working cannon to a bridge, this powerful everyday adhesive is perfect for creating incredible things! In Duct Tape Engineer, master tinkerer Lance Akiyama shows readers how to design and build fourteen mega projects ranging from backpacks to queen-size beds from nothing but duct tape. Every project is specially designed by Akiyama to be a blast to build, and last a good long time. Packed with full-color illustrations and easy to follow instructions, Duct Tape Engineer is perfect for crafters of any age. (PS Duck Tape Brand works closely with the author on lots of project and loves this book! Check out this video if you have a few minutes –  https://www.youtube.com/watch?v=AaVHe4HWDkc )
Trade Paperback , 160 Page, 200 color photos
Age 14+
The Star Wars book, was of course the first one that the boys tore into, and hubby was quite excited to join in and help out.  Blake was also super excited about the Stick Figure drawing book and him and I have been testing out our art skills.   The books rated for 14+ are because of the difficulty of the tasks, which will need some supervision, so these are not leave the kids and they will be quiet and accomplish on their own books.  But, they are challenging, which holds their attention.
To purchase these books, find more fun titles or learn more about Quarto Books be sure to check out their website: Quartoknows.com and then follow them on Twitter.