Disclosure: Funsparks provided product for review.  All opinions stated are my own.
Last month, Blake and I attended the ASTRA Toy Fair, and to say it was overwhelming is an understatement.  There was so much to see and it was so interesting seeing it through a kid's perspective.  One of the booths we visited was Funsparks, who recently launched 8 new active play indoors/outdoors games.  I am all about active play for my kids, so we spent some time at this booth checking out all they had.
From Cornhole to Frisbee to Lawn Darts, Funsparks has outdoor fun offerings for all ages.  Blake was immediately drawn to their Magnetic Dart Board and decided that we had to have one for our house.  Since their is no way that I am allowing my kids to around actual darts, this seemed like a good compromise.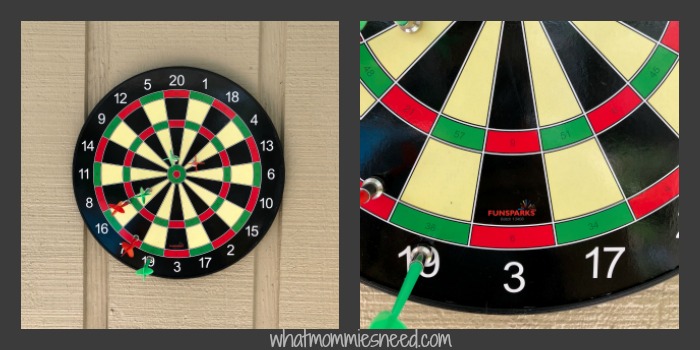 Here are some facts about Funsparks' Magnetic Dart Board:
Modern twist on a classic game: the magnetized dart board is safe for children to use. A keyhole slot makes it easy to hang or mount from the wall
A safe way to play: Funsparks uses a powerful magnet to hold the darts in place and stick to the board every time
Included for a fine game: 14.5" dart board, 3 red and 3 green darts. Comes in a cardboard box, ideal gift for wrapping
Darts is a fun challenging game: it builds eye-hand coordination and fine motor skills which can calm children and adults.
Replacement Warranty: games supposed to be fun, so if anything breaks, we will gladly replace it.
This dart board was super easy to hang and the magnetic darts are strong, so they easily stick to the board.  The boys have had a blast playing with it and I have even challenged my husband to a few games.  I love that Funsparks has a replacement warranty, since my boys tend to be hard on toys.
The Funsparks' Magnetic Dart Board is recommended for kids ages 6 and up.  It retails for $19.99 and can be purchased at Amazon.com (it is available for PRIME shipping).  To learn more, visit Funsparks.com and to stay social, be sure to follow them on Facebook.